How To Bridge To Telos Using Multichain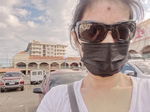 Last October 20, 2022, Telos has extended its partnership with Apeswap.
The following is a list of products that ApeSwap will support on Telos (at the time of launch ):
ApeSwap DEX: Extensive liquidity across six major tokens on Telos (BANANA, ETH, BTC, USDT, USDC, TLOS).

Telos Farms: Stake LPs to earn TLOS.

Treasury Bills: Vest TLOS at a discount by selling your LPs.

Bridging: With Multichain, users can now easily and quickly bridge BANANA to Telos.
(Detailed article here)
It is my desire to learn how these things work, so I tried bridging to Telos using Multichain.
Metamask is one of the supported wallets. So I used my Metamask wallet. I don't have that much funds, but I have kept some TLOS in my MEXC account so I decided to use a tiny portion of it for this task.
For this user experience, I deposited some TLOS to my TLOS wallet in Smart Chain in Metamask from my MEXC account. It was my first time to do such transaction and I am glad I did the deposit right!! (What a relief!) :D Withdrawals and deposits will never go wrong when you have chosen the right network to send or receive the funds. (So I thought lol).
For the record, I withdrawn 20 TLOS from MEXC and received 18 TLOS in my Metamask Smart chain wallet. There was a 2 TLOS transaction fee for the withdrawal.
Now it's time to do the bridging from Smart Chain to Telos Chain Using Multichain.org
First go to Metamask browser.

Type in multichain.org, then click Enter App.

Then click Connect Wallet.

Select the input token in FROM Section, (in my case TLOS). Then select the chain where your input token is on. (in this example, Smart Chain)

Select the same output token in the TO section then select Telos Chain.

Click Swap, then confirm the transaction. (There
Below is the screen recording I did while performing the transaction.
I bridged 18 TLOS and there was a 9 TLOS fee so I only received 9 TLOS in my tEVM wallet. There was also gas fee of 0.00055 BNB. This approximately 0.15 USD. So make sure you have enough BNB for gas with doing the swap.
Once you have your TLOS in your Telos EVM Wallet in Metamask, you can now start staking in Apeswap and earn TLOS.
If you want to know more about Staking Telos and Apeswap you can follow them in their respective Twitter accounts : Hello Telos and ApeSwap.
You can follow me to in Twitter with the same handle me2selah.
If you miss my previous posts, check it below:
Until next time!!
xoxo,
Met