Some of us are no longer in quarantine, but still, our kids are not allowed to go out. If you are used to treating your kids out, worry no more! You can make this quick and delicious snack for your kids. I did this at home as well for my younger sister and niece, they liked it and I love it too.
So, what are we going to need?
Ingredients:
5 Big Potatoes
3 Large Eggs
3/4 tbsp Sugar (Enough to taste)
Cheese (Have a lot if you want it cheesier)
Bread Crumbs (If you don't have bread crumbs at home, crush a Skyflakes or any cracker biscuit that's not sweet of course. Promise! It works!)
Oil (for frying)
And, What are we going to do?
Procedure:
1.      Prepare all ingredients and start, peeling off and cleaning out the potato for it to be ready.
2.      Prepare your casserole. Put water inside it enough to boil the 5 big potatoes that you peeled. Then, boil it for 10 to 15 minutes and check it if it's soft enough. When it's already soft, you drain the water on your drainer.
3.      Allow the potato to be warm enough that you can already touch it without concerning yourself that you might get burned.
4.      Then, put your potatoes in a bowl and smashed or crushed them.
5.      When you finish crushing or smashing the potatoes, add on 3 or 4 tbsp sugar and mixed it well. (You can always add more if you want it sweeter.) The reason why we used sugar is to balance the original taste of the potato.
6.      Keep the bowl with smashed or crushed potato steady, and prepare your egg and cheese.
7.      Beat the eggs and cut the cheese into cubes.
8.      Then, form circles out of the smashed or crushed potato that you prepared. Form and form a big circle, medium sized or enough size for your cheese. Then, insert you're a cheese cube inside the circled smashed or crushed potato, then in circular motion, shape it again to form a perfect circle of potato cheese ball.
9.      Deep it on your beaten eggs.
10.  And, coat it with bread crumbs.
11.  Repeat procedures 8 to 10. When all your potato cheese balls are ready, we will start to deep fry.
12.  Prepare your pan and heat the oil.
13.  Then put in the enough number of cheese balls that can fit in your pan.
14.  Stir it slightly, enough to allow all sides to be fried.
15.  Wait until it's golden brown and get it!
Enjoy while it's hot! You can use tomato or banana ketchup as sauce or mix tomato or banana ketchup with mayonnaise. Yep! That's right, you can mix it and it's yummy. Go!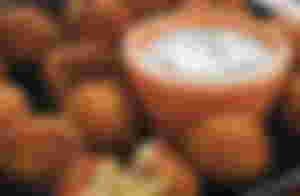 You can prepare this dish for yourself alone, for your boyfriend or girlfriend, for your friends and your whole family.
Try it and let me know!