Ways of Preventing Boredom While Traveling
This is a continuation of my last blog post about my trip to Tagaytay, which was published yesterday. I decided to write another blog about it because I wanted to share my thoughts rather than the place where we went that night, it was still a continuation because everything was connected.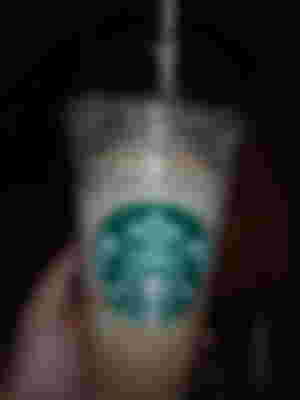 They decided to have some coffee after we finished eating before we went home. They chose Starbucks, which makes me happy because it will be my first time drinking that type of coffee. It was unexpected because I expected to only experience Tagaytay for the first time, but I didn't expect to try Starbucks for the first time as well. It's not that I can't afford it now; it's that there is no SB in our province, and when I was in the city before, I didn't have much money to afford it.
I also told them it was my first time trying SB and that I had to capture it even if it was too late because I had already sipped mine. I ordered the ice caramel macchiato, but I'm not sure if I'm correct. Haha. It tastes great, and I hope that one day I will be able to afford to buy SB on a regular basis. In God's good time.
Back to my main point, which is how to avoid boredom while traveling. We were all exhausted and silent on the way to Tagaytay, and some of us were sleeping. However, when we are on our way home, my cousin's girlfriend is my seatmate, so at first, we are just talking about life and laughing.
She asked me this all of a sudden,
"Anong isda ang bumabaril?"
"Ano?"
"edi Bang-us"
Haha. Even though I've heard this joke before, I'm laughing because of her action when saying the Bangus and pointing her fingers at me like a gun. Haha. Our main topic was fish, either the word fish or any other fish names, anything to do with fish and its lifeforms. You will not believe me when I say that we were throwing questions and laughing the entire time from Tagaytay to her home in Taytay Rizal. As In. Haha. I can't list them all, but I recall many of them, so here goes. I apologize if you do not understand if you are not a Filipina; it will not be funny when translated into English. Haha.
"Anong isda ang makasarili?"
"Ano?"
"Edi SelFISH"
-
"Anong isda ang may value?"
"Ano?"
"Edi FISHo"
-
"Anong isda ang magalang? "
"Ano?"
"Edi Fish be with you"
-
"Anong isda ang nangangalmot?"
"Ano?"
"Edi catfish"
-
"Anong isda ang nasa Netflix? "
"Ano?"
"Edi Squid Game"
-
"Anong isda ang kinatatakutan sa school?"
"Ano?"
"Edi FISHipal"
-
"Anong isda ang may natatanggap every two months?"
"Ano?"
"Edi 4FISH"
-
"Anong isda ang squishy? "
"Ano?"
"Edi Jellyfish"
Actually, we have a lot of fish jokes, but the ones I've mentioned are the ones I remember. I couldn't think of any good jokes about it at first, but she told me we were going to alternate throwing questions and looking outside as if we were looking for answers outside the car. Haha. We didn't notice the time passing until we arrived at her house. When we are cracking jokes, the other passengers which is my cousins in the van laugh as well, especially when we ask a specific question and respond with a witty answer. Haha. We just laugh the whole way home. Those jokes aren't particularly funny, but whenever we hear them, we burst out laughing. I really hope we can do that again if I end up being her seatmate in the Van again. My cousin's girlfriend is so nice that she insisted on us sharing a seat because her boyfriend will drive and the other old one will sit on the other side in front.
When you're traveling and want to light up the heavy traffic or anything, you can do what we did if you have someone nearby who has the same amount of energy as you. It is critical to have someone who thinks similarly to you. Fortunately, even though they asked me to join them, it wasn't difficult for me because I was close to them. I am close to my cousins, as well as my aunt and uncle and my cousin's girlfriend, Alexis. I consider myself fortunate to have known them.
Lead image from Unsplash.
Thank you my sponsors especially sis @BCH_LOVER for renewing the sponsorship. Thank you sis!
Publishing Date: June 19, 2022