K-Drama That You Should Watch
Article #32 April 2, 2022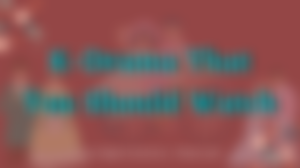 When the pandemic began two years ago, all I did was stay in my comfort zone while watching Kdrama. Today I'm going to show you almost all of my favorite Kdrama series that you should watch as well. It's going to be a long post, so let's finish the introduction and get to the meat of the matter. Let's get started!
Don't worry, I'm not going to reveal how the conclusion was achieved. If you watch it, you will find out if it has a happy or sad conclusion. I'll just tell you some scenes or circumstances, as well as my reasoning for watching it.
If I'm not incorrect, this is the first Kdrama series I've seen when the pandemic strikes in the month of March 2020. Some compare this tale to Romeo and Juliet seeing as the world is against them, as they're in a different reality because the guy is from North Korea and the girl is from South Korea. Captain Ri and Yoon Se-ri have been through a lot in the story; there are numerous obstacles, and the audience will be wondering if they will be caught. I can assure you that this one is outstanding. The story is wonderful, and who can forget those chismosas from the north? Hahaha.
I'm not sure how I feel about this one. It is highly recommended, and you will cry like I did whilst watching it. Park Soe Jeon has had a difficult life, and I feel sorry for him. I'm sure you're unhappy about him. Sae Ro Yi or PSJ, the main character, was imprisoned after he beat his high school rival and also the one responsible for his father's death. When he was in jail, he was preparing to open a restaurant in Itaewon to compete with the popular food company of his competitor, which is owned by the father of the son who killed his father.

I will serve to remind you that you will weep throughout some of the parts in this drama since it is devastating. How he battled for his rights and pride to the point that he lost his right to attend high school and his father was ousted from his job.
I've watched all three seasons of this drama. There are several challenges that they face, and the tension is excellent due to the story's numerous twists. You should watch this if you enjoy mystery and a little bit of violence. It's a little long because it ends in season three, but it's worth watching. Every character in the novel has a unique story to tell and a distinctive point of view.

It's all about the Hera Palace, where the affluent people dwell; the penthouse is the most luxurious property or spot in the Hera Palace, and everyone wants to live there. Every episode contains a revelation, and you can't help but click the next episode button.
For me, this is one of the finest kdramas. It's about a high school student with a condition who can't walk and appears to be fragile and is recruited by ghost hunters. They surmounted his disability and began working with them. They are pursuing evil spirits to send to the afterlife rather than roving the streets and devouring human souls. The twist on this one is excellent, and I promise I had a great time watching it.
The leading lady, Ko Moon Yeong, is a children's book author, while the leading guy, Moon Gang Tae, works as a caretaker wherever they reside. They both have a melancholy soul because they are dissatisfied with their lifestyles. S ang Tae, Moong Gang Tae's older brother, has a special disability. Sang Tae is terrified of his nightmares when it entail a butterfly. You should watch it to find out why. This kdrama is loaded with Ko Moon Yeong's lessons, kilig, and bardagulan, as well as Gang Tae's brother, Sang Tae.
I watched this one in Tagalog Dubbed since I was crocheting at the time. I wanted to grasp the tale while crocheting, so I watched the tagalog dubbed version. It is the story of a man who was a chef in the present time and was involved in an accident; he awoke in amusement as he awoke as a lady in the previous period. Assume you were a male who woke as a girl. Hahaha. This one is likewise highly recommended; I enjoy the tale.
This kdrama began after a law school professor was discovered dead in his office. Some students and professors have been accused of the murder, but who do you believe killed the victim? It's also about students who are interested in justice and the law, and they constantly have mock classes, which I enjoy the most in each episode. Overall, I appreciate it since you will learn even if you are not studying law. Haha.
This kdrama is about a girl named Ms. Hammurabi who works as a sophomore at a law firm and collaborates with a male who has a long-standing crush on her. She is extremely powerful and dignified in her career, which causes her to have various challenges at work. Observing it over time taught me that money cannot buy honesty and loyalty. This one is recommended since it gives the notion that not all attorneys are evil and will not assist you get justice.
I watched this only a few months ago, yet it still sounds fresh to me. It is the story of two people who live in opposite times. The father was devastated after his daughter was abducted and killed, and his wife chose to commit suicide as a result of what happened to her daughter. The girl has been living in the past for one month and is looking for her missing mother. These have been assisting one other in changing their fates and overcoming the awful time. I think it's a fantasy thriller since it's impossible to communicate over the phone with a stranger.
This is my second kdrama, which I watched in March 2020. My cousin recommended it to me back then because he saw how excellent the narrative is. It's about a beautiful, wealthy, and intelligent girl named Mo Seok Hee. She  was an only child to his biological father and mother, although she has three stepbrothers. Mo Seok Hee and Heo Yoon Do, an employee of their company, get together to uncover who is responsible for her mother's death. The narrative is highly engaging, and each episode is worth watching. You should watch this, I guarantee it's fantastic.
I still have a lot to recommend, but it's too long, so if you could ask me to do another part, I would gladly do it. I watched those Kdrama series on Facebook, YouTube, Viu, and Loklok. I don't have any money to help pay for a Netflix subscription. Haha. You can watch it on my recommended apps, but if you have Netflix, I suppose you can find it all there.
Thank you for your time, and I hope everything is well with you. Godbless!
Sponsors of joydigitalsolutions