Day 7: List 10 Songs That You're Loving Right Now
Thank you my dear sponsors.
Hello everyone. Before I begin, I'd like to tell you what happened to us. As you know, I went back to the city with my uncle and aunt last night. I already mentioned it in my article from yesterday. They arrive around 8 pm to pick me up. I'm already prepared around 6 pm because they said I had to be ready at that time.
While my uncle was driving, a large dog appeared out of nowhere and collided with the car. The dog was not injured, and it fled quickly. My uncle said it was a large dog; he was the only one who saw it because I was preoccupied by my phone at the time. The front of the car was damaged when they examined it. Yung lagayan ng tubig sa kotse ay nabutas kaya mabilis maubos yung tubig na nilalagay kasi nagdadaloy. Hindi na tuloy pwede lumarga yung sasakyan kaya inabot nalang ng tito ko sa malapit na may ayusan ng sasakyan. Kasi di na pwede paandarin at nagheheat daw siya at baka may density pang pumutok, mas lalong mapaproblema.
We went to the nearest hotel to stay, but there has been a power outage here since yesterday around 3 p.m. until the evening. As a result, we have no choice but to sleep in the car. It was so hot that when I woke up, I was covered in sweat. I didn't sleep well last night because we're right next to the highway and can hear all the cars outside. What a horrible time we had. Haha.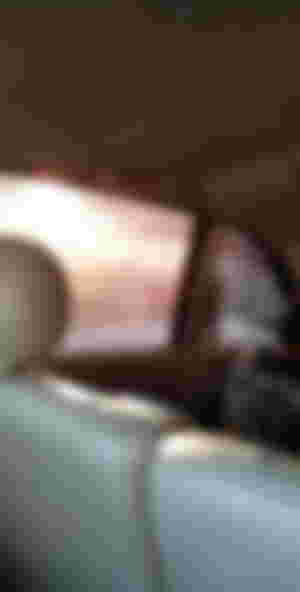 I took it with my phone around 6 a.m., while we were having coffee in the car. The sun is already rising. They are apologizing for what occurred, which I understand was an accident, and no one wants what happened. I just told them it was fine and joked that it looked like we were camping but inside the car. Haha.
We're waiting for the owner of the repair shop to arrive so we can go to town once it's fixed. I'm hoping that repairing it won't take too long and that we'll be able to visit them soon.
Back on topic, here are my top ten songs that I listen to these days. I got them on YouTube, so you can listen to them if you want. There is no need for explanations because all of the music is beautiful and seasonal, and it only depends on our feelings at the time that we enjoy listening to it. Almost all of the songs I listed can be found on Tiktok. I enjoy hearing the chorus on occasion, but reading their lyrics makes me want them even more.
Sign Of The Times
Pano
Line Without A Hook
Only Love Can Hurt Like This
Dandelions
Easy On Me
Superficial Love
Traitor
Deja Vu
Scars To Your Beautiful
Sorry if I can't read your pieces today because I'm still on my way to town. I'll be back here as soon as I arrive and get some rest. For the time being, I'd like to get some sleep. God bless you all!
Lead image from Canva.
Publishing Date: June 14, 2022