Our Internet is Back since Thursday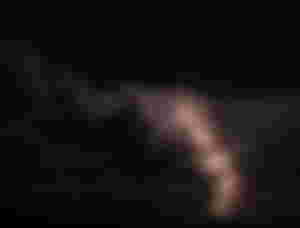 Last week on a Saturday, there was a storm, and a strong wind came. And the last thing I know, our internet connection was cut off at midnight. My husband was at work and sent a message an hour earlier if we were fine with the kids.
Many times I tried to troubleshoot but nothing happened. So I gave up. Our TV wasn't working and so was the telephone as they are all connected to the internet.
So, the kids and I decided to sleep at 1 AM.
My husband arrived at 6 AM and went straight to sleep. Later, he told me he tried to do some troubleshooting before he went to sleep.
For the whole Sunday, we were just lazy. I was sleeping the whole day, I mean, after eating lunch. Kids were playing in the play area. Elise came to my bed to sleep beside me. Alexandre also went upstairs to sleep. The husband went to the barn to fix something.
Monday, we decided to go to the lake to walk around. I wasn't able to take photos. The internet wasn't fixed. The kids also enjoyed the playground. I was able to connect to the internet using my husband's mobile hotspot. I published some articles on Hive that I drafted for how many days. But I made sure to interact with others here on Read Cash when I can. But no updates for how many days.
Tuesday, same as usual, having our lunch. We prepared ourselves to go to the indoor aqua park in another city. We need to swim as our exercise, at least, for me and my husband. We alternate, I play with the kids while he goes swimming, and he plays with them when it's my turn to swim.
Wednesday, we just stayed at home as my husband was waiting for some parcels to arrive. Still no internet, so we used the mobile hotspot. It was just a regular day doing house chores.
Thursday, we were preparing ourselves for another trip to the aqua park in another city. But it got canceled when Alexandre and Elise fell from the bed. Elise was fine even though she hit her head on the floor. But Alexandre hit his chin on the floor and there was blood from his mouth. It was a busy day.
Friday, I was able to send a message to my client that our internet is back and told him some personal updates.
Also, I found several photos from my past travels that's why I was able to do some articles for Hive. I just joined the Photography community as well.
So happy to see that I am making a little progress on Hive.