I got my 52 euro skin care products
I just received the skin care products I purchased last week. My husband was shocked to see I bought too many creams. What if I get allergic? I told him those are different products from one brand. There's a cleansing balm, a cream, a hydration serum for the skin and for the hair (2 products), a sunscreen and a night treatment. I got 6 products and 2 are free. The Inkeylist.
I like the minimalist design and the black and white color. The boxes and the bottles are very informative. There is an instruction on how to apply each products and which one to apply first until to the last. A step by step process on how to apply this kit.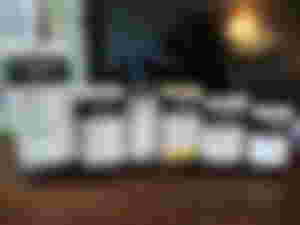 STEP 1 - CLEAN, use the Oat Cleansing Balm every AM and PM
STEP 2 - HYDRATE, after cleaning, use Hyaluronic acid as a serum every AM and PM
STEP 3 - TREATMENT, use the ceramide treatment every PM as the last step, stay overnight.
STEP 4 - MOISTURIZE, use the omega water cream after STEP 2 every AM.
STEP 5 - SPF, put sunscreen after STEP 4, use this every AM especially when you're outside under the sun.
I removed the boxes but I still keep it. Again, there's a lot of information even inside the box. And here are the bottles. So minimalist but informative.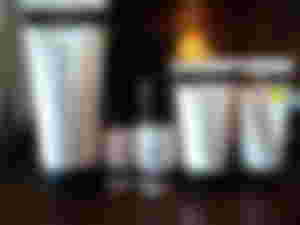 To be fair, I started doing a skin care last week using a soap for cleaning and the La Roche Posay cream for moisturising my skin. Somehow, my skin lessened it's dryness because I've been putting moisturising cream liberally. Sometimes, I do it after 3 hours. I just keep on putting cream whenever I get the chance. Don't forget to put SPF sunscreen even inside the house. Since I use a lot of screen time on my laptop, there's a blue Ray light from TV screens and laptop.
Actually, the first few days, I don't use the soap for cleaning. I just washed my face with cold water. The cold water helps to close the pores.
My mistake before is that I wash my face with soap and warm water. That's why my pores are big. Warm water is the culprit for big pores and dry skin without moisturizer.
My facial skin is not perfectly flawless as I have pimple scarring from the past. Well, imagine a moon with craters. Hahahaha! I loved to scratch my pimples before. I've been so impatient that it made me less confident of myself.
That's why I stopped caring before. I don't want to put several cleansing agents that would make my skin suffer. I don't use eskinol. It's a cleansing astringent. One time, it stings my face because of alcohol - presence.
I felt weird because the cleansing balm is like an oily balm or vaseline you put on your skin. It is also good to use it as a make up removal. It is not soap so don't expect soapy bubbles. I put the serum after and I felt my skin getting a little tight. I put on the moisturize like a little pea-sized. The instruction says put a thin layer. Lastly, the SPF. You can put it liberally on your face.
After few minutes, my skin calm down. And I feel fine. So tonight, I'll do the first 3 steps only.
I am happy to do a little routine for myself. Let's see what happens in a week until to a month.
So here's my ugly photo for documentary purposes. Hehe!