Beat the Heat, 2022!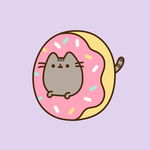 Few days ago, the saying that what you did good will come back to you was once again proven. Just for a short back story, last year, on the surge of the pandemic, we have some churchmates who wasn't able to go home to their respective provinces. It was during the lockdown, they don't have jobs and they can't go home. So, we took in two of our churchmates to live on our house for a few months before lockdown was lifted so that they can finally go home.
One of those two lives in Subic, Zambales and a month ago, when he found our that we're planning to have an outing, he gladly invited us to their place and offered us free foods, accommodation, and he's also the one who planned our itinerary.
It was already night time when we arrived on their home and our dinner was already prepared. We ate the fishes that they catch on their own and much more to that is their very welcoming home and family members. You know, the house isn't cozy at all but their warm welcome is more than enough to make us comfortable.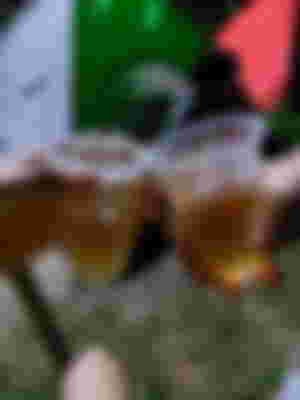 As the night progressed, we just had a catching up conversation over some drinks. And as you can see, there's a tent on the background since we were 39 in total and all 3 houses can't accommodate all of us so some of us slept on the tent.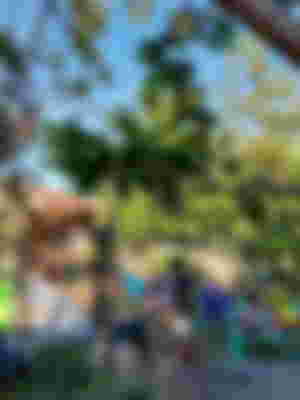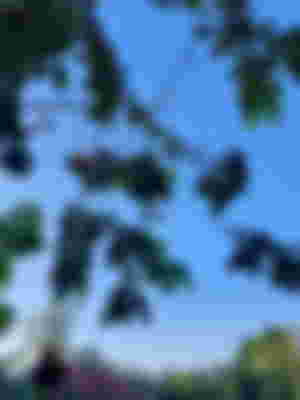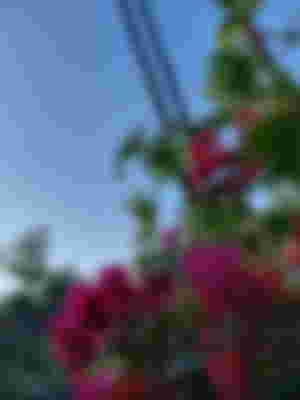 We had a great night sleep after that and this is how peaceful their place looks like in the morning. The tent is giving us the backyard camping vibes and their surroundings just looks so appealing in my eyes. It just looks so fresh and peaceful with all the flowers and all the greens on their surroundings.
The next day, we didn't waste any time on the morning. I woke up at 6 am, we had breakfast and we immediately get ready for island hopping. Sadly though because at this point, half of us changed location and go to another beach resort at another province instead.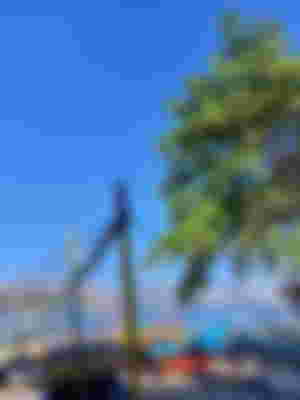 But we cannot let that ruin the fun so here it goes! That photo above was taken at the port where fishing boats are located. Our churchmate came from the family of fisherman and they have their boat here that we will be using to go to the island. This trip isn't fancy at all but it doesn't have to be expensive for us to enjoy.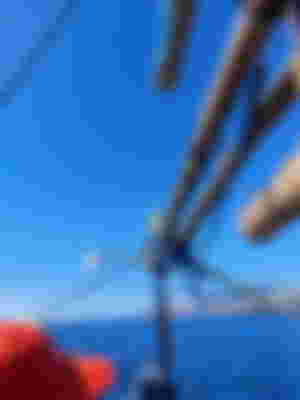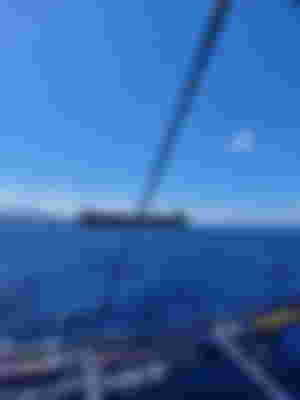 It took us one hour of boat ride before we can reach the island and that one hour gave me such peace and relaxation. It is just so relaxing to look at the deep blue see while enjoying the humps and bumps of the waves on the boat. It was a sunny day but the wind was also fine and it just feels so good to feel it against my face while hearing the sound of the waves.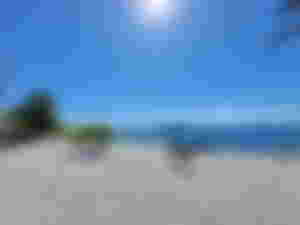 This is how the island looks like as we arrive there. Mr. Sun is already up and shiny but of course, we literally beat the heat! I am a bit regretful about not taking much photos because I feel like this didn't give justice to how beautiful the place is.
What I like about it is that there are only few people on the island and it feels like it was exclusive for ours. The white sand is nice and the water is so clear that you can literally see the fishes underneath.
I also enjoyed the part when we move the boat on the deeper part of the ocean so that we can enjoy swimming and diving more. It really feels so nice and I feel so free as I float in there. LOL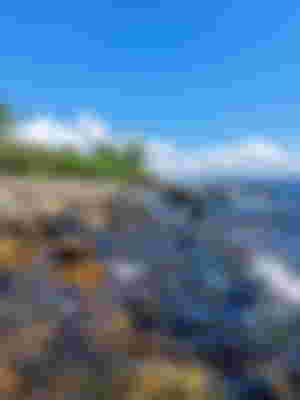 I also like this rocky area on the far side of the island. I wasn't able to take a photo of the whole area but the rock formation looks nice. Hehe. Lastly, here's a photo dump of myself before I proceed to day 3.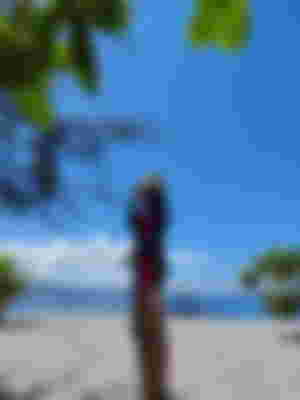 As I have mentioned above, half of us moved to another province and so for us to be together, after we went island hopping, we followed the others at Morong, Bataan. It was already night time when we arrived in there and in contrast to the exclusive island, this resort have a lot of guests and the night was so alive because there was a live band performing on the island. But what I enjoyed in there was the bonfire. I don't know, bonfire just really fits on the beach.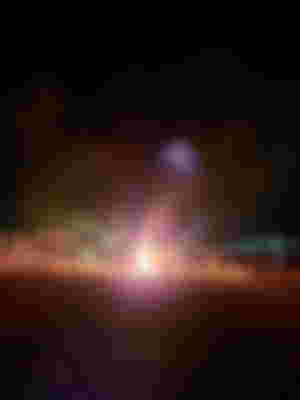 On that night, though we rented a few rooms on the resort where we can sleep, we thought it will be nice to wake up with the sound of the waves so we chose to set up our tents near the shore and sleep on it. And indeed, it really feels so nice to wake up with the relaxing sound of the waves.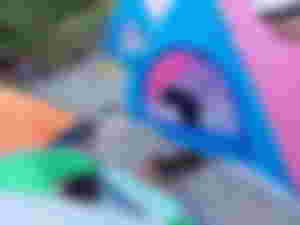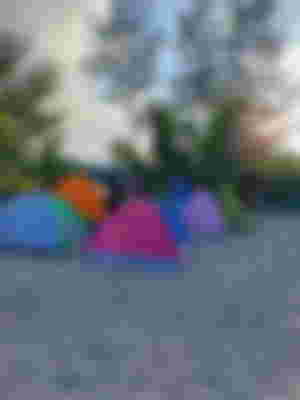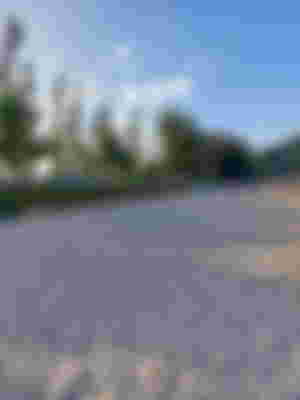 Those are just random photos I took. I don't have that much pictures since I focused on enjoying the place than to capture really nice photos so there are just quick random shots.
Next is on that morning, the manager of the resort told us that there is a false nearby. So we went there and enjoyed the fresh and cold water from the mountains. After that, we went back to the resort and enjoyed swimming for the rest of the day before we finally go home.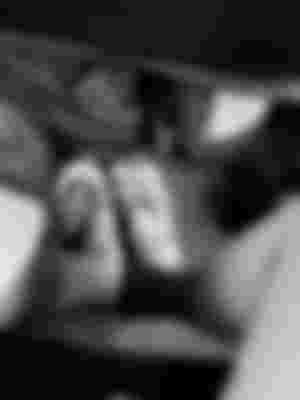 Tada! An injury. Haha
As I have mentioned, we went swimming at the falls and that's where it happens. There was a broken bottle on the falls which I am not aware of, obviously. Since I cannot see what's underneath, unfortunately, I accidentally stepped on it. I am actually not aware of it until it stings.
When I saw my feet it was already bleeding and it wont stop. LOL. We waited for a few minutes more to stop the bleeding so that we can go back to the resort again. And there comes another struggle. The falls was on the lower area of the mountain and we have to hike to go back. Imagine hiking on the mountains with an injured feet. LOL. Good thing, it isn't that far and it was only a few minutes hike, and I was also holding on to my cousins as we climbed up the mountains.
---
Overall, those 3 days was really worth it. And it feels like we went to a lot of places in a short span of time. I may have go home with an injury but overall, it was such a fun and relaxing experience. All stress gone, no worries and that's the exact definition of unwinding.
I have been so stressed for the past weeks and I was glad that we were able to take a break.
Anyways, this would be all for now. Thanks for reading this far and I hope that you're all doing great. Have a good day!
Sponsors of immaryandmerry