What Am I Looking For My Future Man?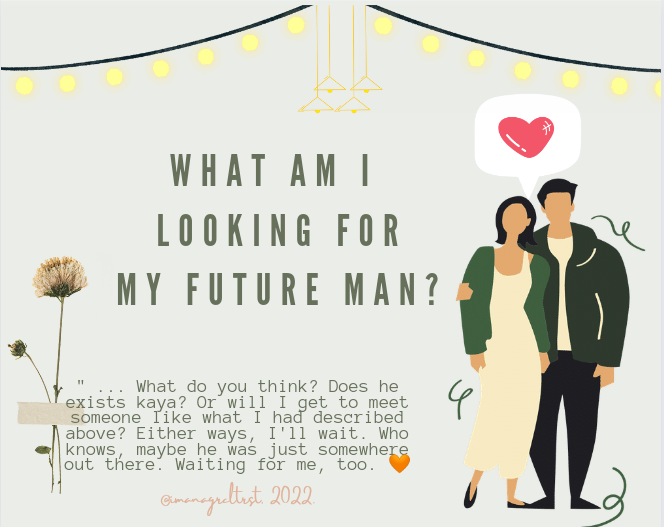 Is the most anticipated month for all the couples out there. Why? Simply because it is when Valentine's Day was being celebrated. Couples who are romantically in loved with each other are so excited for this day, February 14 to come.
Couples are looking forward for them to go on a more intimate and special date with either of a matching candle-light dinner, chocolates and flowers, teddy bears and other stuff toys, jewelries, name it. Especially those teens, omooo. Valentine's Day are indeed a big deal to them that they go so bitter and sort of sawi when they still have no jowa days before this day arrives. Well, it's also applicable to the adults who are still single even when they are already in their mid-twenties. Just like Ate @Ruffa, haha!
Aside from the couples, sellers of many love products such as chocolates, flowers, and teddy bears are also agitated. Higher sales are coming ey~
I've known so many single ladies here like Ate @Jane, Ate @esciisc, Ate Florie (@Eirolfeam2), and more to mention. And to my frennies here that are so engrossed with academics and hustling that Valentine's Day had been just an ordinary day for them. Hi, Pres @immaryandmerry, mushy @carisdaneym2, mare @CrazyRichFilipina, bb @Sydney2. Of course, to myself. Hihi~ yes, I'm a proud single here. Payaman na lang tayo, gals so that men will run after us na lang when we are already successful in life. Kidding! XD
But, hey! This gals right here are so lucky to have their man on their sides, supporting and loving them at all means. Hello to Ate @Jeaneth, @Pachuchay, @Usagi, @Kelzy, and bb @Sequoia. Share your ritual naman uyyy~
Apparently, this is not our topic here. That's just a brief (?) introduction. Well, if that is really a "brief" one. So, what will we talk in here? Here:
Most of us, or should I say all (?), has our sets of standards when it is about that what we refer to as "the one." Say that you don't have any standards to men or women, dadagukan talaga kita. LOL!
I admit that I am not a member of "No Boyfriend Since Birth" or short for NBSB anymore. In fact, I already have a numbers of ex-boyfriends when I was in Junior High School. Yah know, typical teenager who's so aggressive and hook in terms of being in a relationship. And, would you believe that most of them was not for real? I mean, not meeting them personally. Yes, most of them was just a "phone or chat boyfriends." Hehe, ssshhh! That's my secret that I am really shy of. Just realized that ang ano ko pala dati. Well maybe, a part was due to the peer pressure but most was on myself.
Okay, enough with this. As I get aged, what I want for my future man to have had slowly changed until I only wanted a serious one and not to have a "many" of them in a certain period of time. I don't want to have a famous boyfriend nor a super duper rich one that has the capabilities to spoil me so much, just like what the society usually look for.
A soft but definitely a tough heart.
As a lady, yes, I am also a bit after the looks. But, not just with it. I am more on the character that he has. Why not just only base on the physical attributes? I ain't a lady will overflowing charm and beauty, so I won't ask for more if I know I am not getting it to the high level. I want him to have a good character and not just a pretty face. A kind and softy heart but definitely has a strong one that can face all the difficulties of life. Either alone or with me.
Positive and a great mindset.
Nowadays, some of the boys or man out there has a different mindset from what we, girls has. I want my future man to have the mindset, same to what I have. A positive and a great one so that we can jive with each other, more and more.
Understanding but not an UNDER.
As you know, I am the breadwinner of our family. I have this heavy baggage on my shoulders that I want, and not just to should, carry upon until I became successful. And, I am aware that I want it to be like this when I get older and had built my own family. And, I want him to understand that.
Aside from that, I want him to try to understand me and the attitude that I have wherein I'll also try my very best to do the same to him. Yah know, I have flaws too. I'm a silent nagger, as well. But, I only want him to be understanding and not an UNDER coz I further want him to feel free and to enjoy his freedom with him knowing his limits.
Resourceful and hard-smart working one.
As I said, I don't just want my man to have a pretty face or even not that pretty one. This days, life is getting more harder to get through. So, why would I choose a man that just have a pretty face but a certified "lazy?" In addition, I'm looking for a man that was not a dependent to his parents or siblings or simply not a "Mama's or Papa's boy." I want him to be knowledgeable in life coz if he happens to be a dependent one? For sure, conflicts with the in-laws are really possible to occur. And, I don't want that. I want our relationships to be smooth, sawa na ako sa mga conflicts uy.
Has a dream to pursue and achieve.
Most specially, I want a man that has a dream and a persevere one that will do everything to just be successful. Either he came from scratch or what, I want him to have this kind of goal to be a successful man. Am I looking for a rich one? Maybe yes, coz that's an easy and fast journey for me. No need to face so many challenges or what but no. I love it more if we will become successful, or better yet get rich, together. Mas solid kapag ganoon~
---
For more articles, just visit me here in read.cash:
imanagrcltrst: https://read.cash/@imanagrcltrst
And, we can also have a chitchat in noise.cash:
imanagrcltrst: https://noise.cash/u/imanagrcltrst
---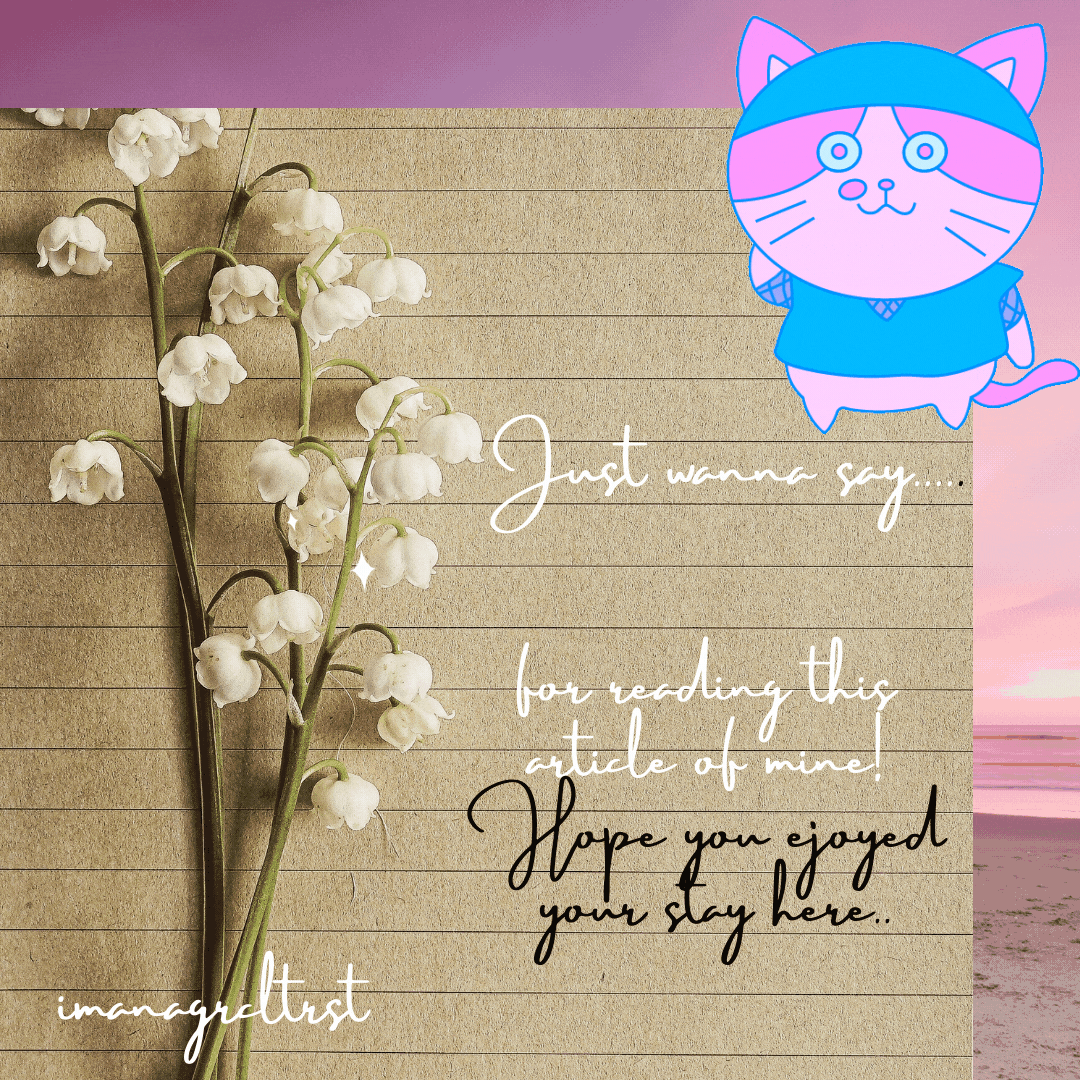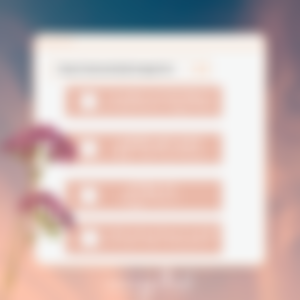 ---
LOVE LOTSSS!
ARTICLE NO. 24 OF 2022
<What Am I Looking For My Future Man?>
Published by February 07, 2022
Sponsors of imanagrcltrst