Certified Noise.casher For A Year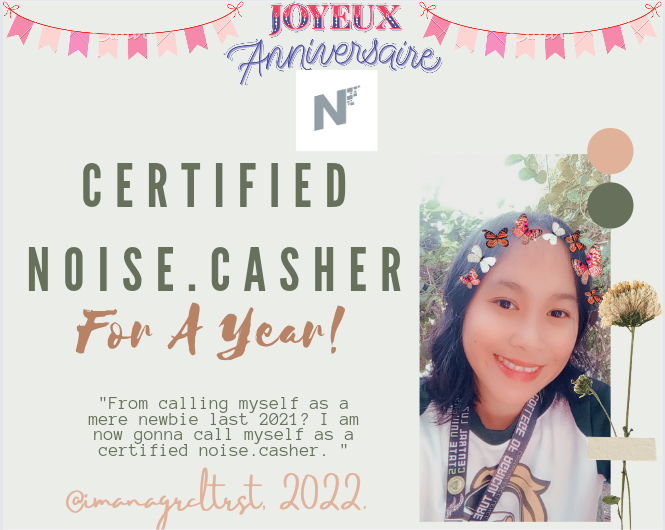 A blogging and a "free-BCH earning platform" wherein ...
Never did I expect that I'll be joining at. As in! All that I can think of that I can express my thoughts is through writing piece for our college publishing team. Until, a friend of mine, @carisdaneym2, sent a message to our group chat. Inviting us to join her in this site (including read.cash). Apparently, I was so busy with my priorities in life such as in my studies and with my tutorial sessions at that time so I hadn't joined immediately.
On the 11th day of January, year 2021, I finally created an account here with the username of "imanagrcltrst" which is pronounced as "I'm an Agriculturist." Why chose that said username? Simply because I am an Agriculture student and is dreaming to be one of the country's Licensed Agriculturist. So, I decided to why not just use that one.
I was so inspired with my friend's achievements here in the platform. That it made me pushed my luck in blogging, even though I don't know how it runs at first. But then she guided me until I finally learned few things that made me able to do my thing here on the next days and months. Aside from her, I was also encouraged of how other content creators like my big sisters (Ate) here like Ate Jane, Ate @bmjc98, Ate @Ruffa, and more had established their names in this world of blogging. Making them able to do unexpected things just with their overflowing efforts in writing a piece of works. An example is the ongoing BCH House of Ate MJ.
Of course, like all of us here, I also ...
Started with 0 (zero) subscribers, hearts, tips, and all. That time, we only have the subscription and explore tabs until the site starts to improved into a more greater one. Here comes the search tab, also the numerous channels had emerged, and many more updates was then introduced to us little by little. It was during the first implementation of FreeTips era when I started my journey here. Like what we have known, it's not easy to earn this way. And, look! There was so many updated on the earning system but I am still here. Even though I struggled and felt down for having zero tips for many times? I am still here, doing wonders. I exerted so much efforts and time just to gain other users' attention, until that zero everything begun to move to one to two and more.
Everything started with zero. I spent days turned to weeks to months and tadaaa! From zero subscribers? Now, I have thousands of users who supports me here and was even rooting on me. The earnings? Oh, it goes beyond my expectations. And, those users that eventually became my friends and even family that grows virtually? I didn't even see that coming, as well.
.
Can you also imagine that a wannabe noiser like me will have the opportunity to be one of the content creators here? Also, that I will be able to accumulate and hodl 1 BCH with just noise.cash alone? (Shared in this article: Finally, I Successfully Unlocked My First 1BCH!) Exclude those BCH that I had converted for so many times. Yes, it was just with noise.cash and read.cash has nothing to do with it. Aside from that, I also successfully given some simple Christmas gifts to our family and to my cousins of of my everyday noise.cash earnings? Oh, that feels so wonderful. ❣
Aside from this accomplishments? I even supported Mama's needs when she got sick for weeks. Also, when we moved out and in need for such a big amount of money. Guess what? I didn't pinch even a little to what I am saving in the bank coz that's meant for other things like our daily needs and savings. But then, here's my hodlings that I accumulated from noise.cash alone, backing me up and even said, "Don't yah worry and instead, let me do the thing and ease your worries."
So thankful and grateful to those persons behind this platform who are so willing to help us, users to gain something and making a living out of content creating. They were wholeheartedly donating huge amount of cryptos, without asking us for any monetary returns. Instead, to do our very best to grow and nurture the skills that we have. With a bonus of earning, yeah.
Hadn't imagine that I'll go this far with noise.cash. Coz I am really a busy person outside this virtual world. I have so many priorities and responsibilities that can stop me from digging up here. But, look! I still managed to be flexible enough to do them at the very same time. And, from a newbie noiser way back last January 11, 2021? Tadaaa!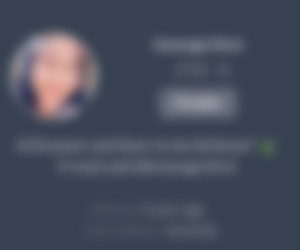 I shared this milestone as my first post in noise.cash today. Here it is: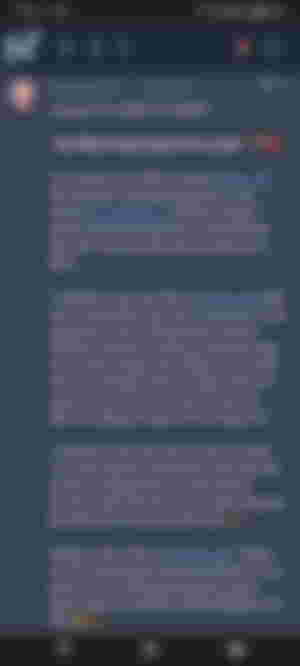 You can check the actual post using this link: https://noise.cash/post/l76qg272
Actually, I'm planning to have a Noise.cash Anniversary Cake but I can't have it now. Coz I'm not yet ready to reveal to my parents what I am doing this past few months. I'm happy making some living in a silent mode and privately.
From calling myself as a mere newbie last 2021? I am now gonna call myself as a certified noise.casher. And, from zero subscribers? Now, I have 2765 (as of 8:32PM) and still growing. 💚
Aside from the incomputable earnings that I've got within my first 12 months here? I also gained other things, the learnings and a virtual family. I won't mention you, guys anymore coz you already know who you are. Thank you! Thank you for being a part of my journey here in noise.cash. May we still have more years to have chikahan and make our bonds more stronger. :)
Also, may noise.cash stays with us for way moooore years. Again ....
Cheers to more years with you, noise.cash and to all of the nise.cashers around the blogging world! 🥂✨
---
For more articles, just visit me here in read.cash:
imanagrcltrst: https://read.cash/@imanagrcltrst
And, we can also have a chitchat in noise.cash:
imanagrcltrst: https://noise.cash/u/imanagrcltrst
---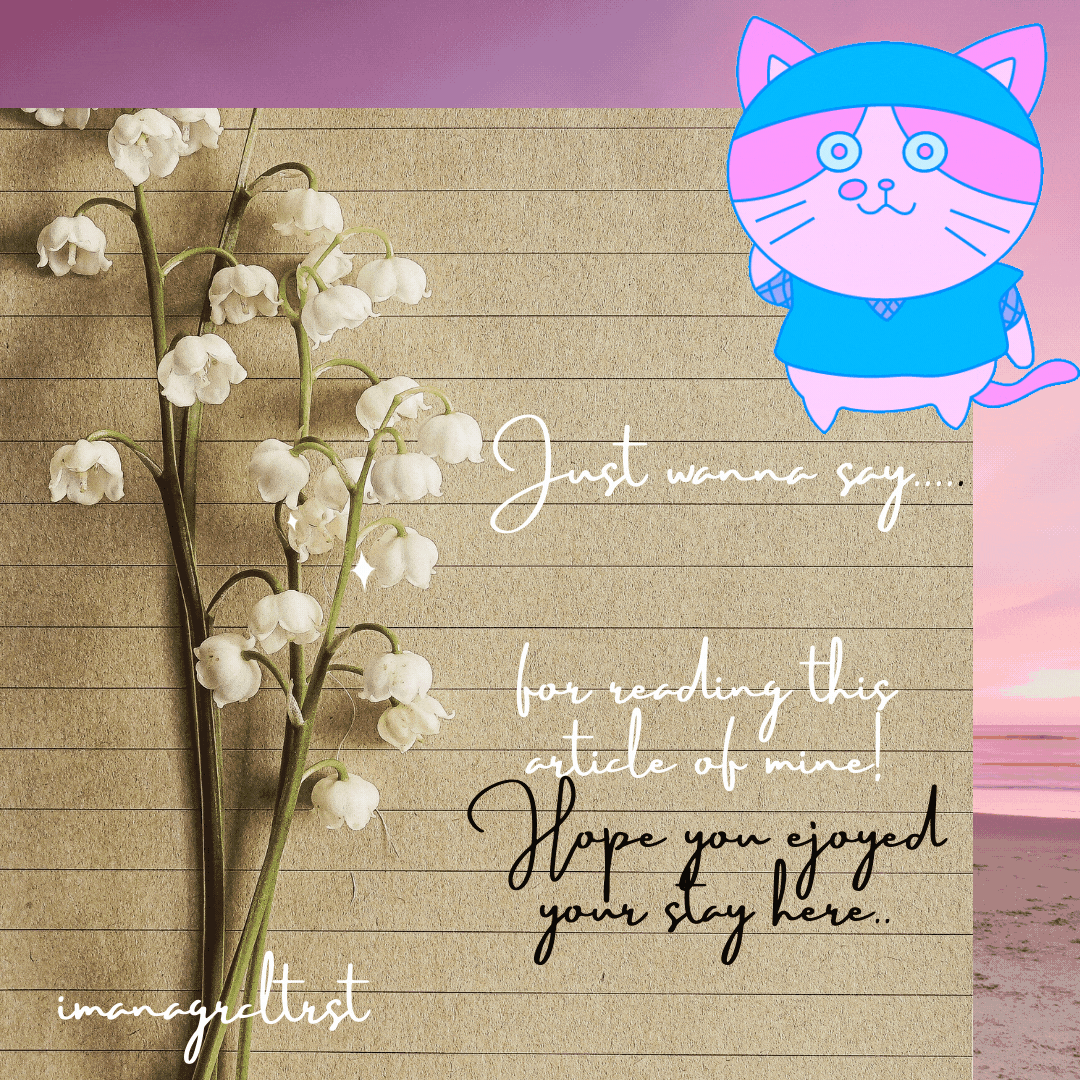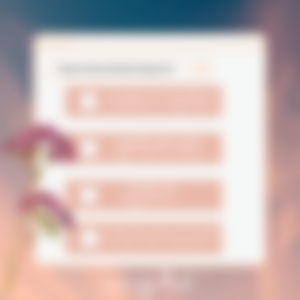 ---
LOVE LOTSSS!
Published by January 11, 2022
Sponsors of imanagrcltrst