I don't like cats. When I was little I somehow had cats at home, but then when I grew up I didn't like them anymore.
But now this cat comes here and sits on its two hind legs and looks at me, just stares at me! I'm just standing in my garden, like I do every day in the afternoon. I take a hose and connect it to the water supply and I water all of my plants. I enjoy doing it, I really like going through each of my plants and placing some water on them.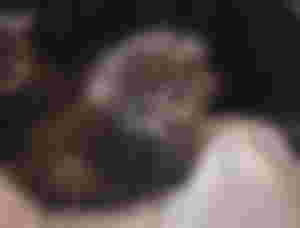 This cat is not leaving. He comes every day in the afternoon and does the same thing, he just looks at me. I put some scraps of food in a container and leave it in the garden. This cat first observed me from outside my house. Now he passes through the bars of the protective wall of my house and manages to sit and look at me as always. I would learn much much later that feeding an animal is like inviting it to stay... And so, the cat stayed.
Now he trusts me more, because without knowing I gave him food and now he comes with more confidence to the garden.
I like him, little by little he earned my good will. The cat is very pretty, at least for me. It has a black patch, from its own, covering one eye. And the rest of the body is mostly white fur and a small part is yellow. Its tail is furry, I think it's a mixture of an angora cat with another type.
Only a long time later did I discover that cats with three colors are female, but I didn't know that at the time. And what else can I say? This cat adopted me. She became the owner of my garden, or did she become my "owner"?
She was able to remember when I got home from work. I left home very early, but when I arrived she did the same, and in the afternoons she accompanied me on the street while I waited for a taxi to pass by to go to work. Later, through my son, I learned that the cat was going somewhere on the streets and would come back again when I returned from work.
She started to get fat with time, but that wasn't true, she wasn't just getting fat, she was pregnant. God! I thought, what will I do with so many kittens? All I could do was wait for the day of delivery and see how we deal with that. Funny how I went from not wanting cats to having a pregnant cat at home.
Time passes, my son and I went on a weekend trip and when we least expected it we received bad news. We had to stay away from home for a week and at the end of the week we returned home and the cat was gone.
She appeared again the day after we returned home, with a surprise! She didn't have a bulging belly anymore, but where are her children? I thought she had lost them. The, shortly after, she began to arrive with the kittens, one after the other, she would leave them in the garden and go for more. She ended up bringing 5 small kittens to the garden. I arranged her cats on a makeshift plastic bed that I found for her and they stayed there for a long time.
Sadly, mama cat got sick. She got some sort of crusty disease on her nose. And she passed it on to some of her children, we were able to bathe the little cats with some special soap and medicines we received from a vet and cure them but mama cat never wanted me to hold her. She was free, used to the street, whenever I wanted to wash her wounds she attacked me... I know it wasn't her fault, she was a cat used to the street, without owners, not used to those signs of affection.
And eventually, during one bad day, I saw her dead on the street...
It's a very sad and painful departure. She left her 5 babies at home, in my care.
The cat that one day approached me and adopted me, that became my owner, left.