Great Benefits of Working From Home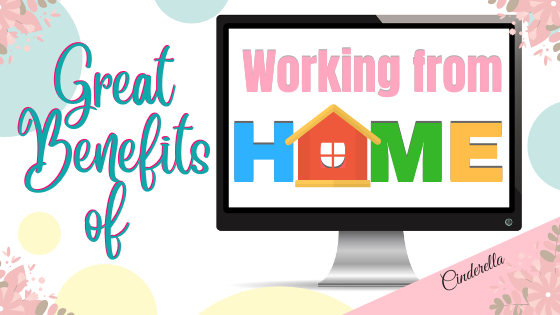 Even before the pandemic period, working from home has already been popular because of the countless benefits it offers. In 2020, when the Covid-19 pandemic started, government offices also adopted the work-from-home scheme to continuously provide services to the people. Hence, workers from various government agencies were obliged to shift from the usual practice to online working.
Using of the online platform has become the new trend. Using of Google Drive for consolidation of reports, the use of link shortener such as bit.ly, Zoom and other meeting platforms, Facebook messenger, app and websites are only some of the common platforms used during this period.
I have been active with online activities such as blogging and other form of online working since 2010 so the transition between manual and online processes was no longer new to me. Though it created some issues especially with older employees who could no longer adopt to the new technology.
For those who have been active online even before the pandemic, I am sure that you would agree with me that there are countless benefits that working from home can offer, whether we do it on our own or we are employed in a certain company.
During pre-pandemic period, we need to transmit hard copy of our monthly/weekly reports manually to the man office. With this, we need to travel using the service vehicle of the office to go to the regional office just to transmit the documents. We spent money for the gasoline and employees will claim for travel allowance as it is allowed by law. We also need to spend at least one whole day to do this.
This is also true when we need to attend trainings or seminars on various programs. We need to be physically present on the designated venue. Additionally, we need to spend on accommodation just in case the training would last for several days.
But with the adoption of the new scheme, scanned copies of documents can be uploaded to a designated Google Drive. Moreover, Zoom meetings can be as effective as attending the trainings or seminars personally. Thus, the government saved funds on travel, food and accommodation. Though we need to upgrade our internet services and gadgets to have a clear reception during meetings.
Maybe not everybody is happy with this new work scheme but for many, having to work from home is beneficial in the sense that they can work from the comfort of their home. No need to spend time contemplating on what clothes to wear, waking up early so as not to get caught in the traffic.
We save money and time as well. Why? Since we don't need to go out of our home, we don't need to spend on gas or fare and we can work with our ordinary clothes without any issues.
These benefits are for those who are working in a company or an office. But how about those who are self-employed or a freelance workers? What benefits do we get from working from home?
As I mentioned earlier, I have been working online as a writer and a blogger since 2010. I do it on a part time but there are some of us here who work online on full time.
Apart for the advantages mentioned above, there are other benefits that are worth mentioning. Working from home can offer wide array of perks and benefits and here are to name some…
Working from home allow us to manage our time and schedule that works best for us. It simply a matter of proper time management. So long as we can deliver what is expected of us, then we can achieve success on this field.
We don't need to stay with one employer or better yet, we can work without any employer at all. This is applicable to bloggers, vloggers, writers and other online wok such as online selling.
Since we are not require to be physically present, we can bring our gadget to any place we want and work there. As long as we have an internet connection, we are good to go.
The more we learn the system and implement the proper techniques, we can expect more earnings which can be even higher than many employees working full time.
This is one of the most prevalent reasons why many people opted to work from home. To have more time for their family. After all they are the reason why we are working so hard.
Whether we choose to be employed and work physically in an office or company or stay at home and find the job most suitable for us, at the end of the day, we are only accountable to ourselves. Our choices, our life is ours to live.
Thank you for sharing your valuable time.