Roxana-Wife of Alexander the Great
B.C. At the Battle of Gaugamela in 331, Alexander the Great's King III. After defeating Darius, Alexander had to deal with minor rebellions that broke out throughout his empire. B.C. In the summer of 328, a rebellion occurred in Bactria, an eastern satrapy, that would allow Alexander the opportunity to meet the beautiful Roxana.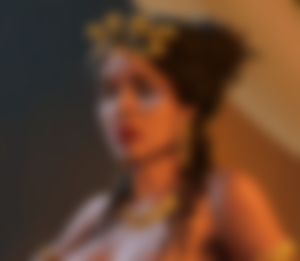 When Bactria rebelled, Alexander and his army acted quickly to suppress the rebellion. Thirty thousand Bactrians took refuge in a fortress perched on top of a steep cliff called the Sogdian Rock. Alexander sent word to Arimazes, the commander of the fort, urging him to surrender. Reluctant Arimazes answered this call by asking Alexander if he knew how to fly, saying that if he did not have winged soldiers he would not be able to defeat him.
The proud Alexander had no intention of letting any impossibility stop him. Alexander summoned the best rock climbers in his army, offering a reward to the first person to reach the top of the cliff: three hundred volunteers thereupon. In the morning they had reached the top, with only thirty casualties – soon after that the citadel surrendered. According to one historian, it was there that Alexander saw his beloved Roxana for the first time among the captives and instantly fell in love with her.
In another version of the story, told by the historian Plutarch, Oxyartes, the satrap of Bactria, had Alexander hold a banquet in his honor right after the fortress had surrendered. That night, Alexander's eyes fell on one of the dancers. That person was Roxana, the sixteen-year-old daughter of Oxyartes, whose name means "little star." Roxana was hailed by people who saw her as the most beautiful woman they had ever seen—even more beautiful than the wife of the defeated King Darius. While Alexander might have been the only woman he truly loved, there was another possible reason for marriage, according to Plutarch.
(His marriage to Roxana, whom Alexander saw for the first time dancing at a drinking banquet, who fascinated him with her youth and beauty, was truly a love marriage, but it was also a move that allowed him to control the subjects he ruled. Thus, he honored the people of the people he conquered by choosing a wife from among them.)
The marriage of Alexander and Roxana had to wait, as Alexander and his army were called into battle elsewhere. Finally, Oxyartes and the new Persian King performed a Macedonian tradition and divided and shared the bread. Ultimately, BC. The marriage of Alexander and Roxana, which took place in 327 BC, remains a subject of debate among historians.
Was it a love marriage or was it a political alliance, as Plutarch claimed? Such marriages were made several times by Alexander's father. Also, without marriage, Alexander would not have been able to take advantage of Roxana, which would have been a violation of his own policies. This marriage was therefore compatible with Alexander's policy of uniting two cultures, Greek and Persian. Alexander would later insist that all his generals marry Persian women. (which would cause bitter feelings after his death)
From their marriage, Alexander's BC. Little is known about Roxana until her death in 323. Although some historians state that Roxana went to India with Alexander and sided with him in Babylon, everyone agreed that Roxana was pregnant at the time of Alexander's death. His passing to the next records is in Macedonia where his son, the future IV. It happened when Alexander was waiting for his birth with his mother-in-law, Olimpia. While he waited, the fate of the empire awaited with him.
Of Alexander's generals, only Perdikkas wanted to wait until the birth of the baby to determine the future of the empire. In his own interests, Perdikkas hoped to hold the empire together so that he could serve as regent for the young king. Other generals - Ptolemy I, Antigonos I and Seleukos I Nikatōr - did not want to wait and demanded that the empire be divided among them.
These discussions would eventually turn into what historians call the Successor (Diadokh) Wars. Roxana hoped that, with Olimpia's support, the empire could be held together for the yet-to-be-born Alexander. But there were other potential suitors for the kingdom, among them Phillip Arrhidacus, half-brother of Alexander the Great, son of Philip and Philinna of Larissa, but he was not in serious danger as he was seen as a fool.
Did the kingdom have other suitors? It seems that Roxana wanted her own son to be the sole heir and summoned Statira, Alexander's "other" wife.
According to Plutarch;
Roxana, now pregnant and respected by the Macedonians for this reason, was jealous of Statira, Alexander had her write a fake letter as if she was still alive and summoned her with this letter. When Statira came, she had her and her sister killed and thrown into a well where they filled their corpses with mud...
Jealousy and indecision had captured Roxana. Wanting to preserve what little part of the empire was his, Cassander decided to marry Antipater's son and heir to Macedonia, Roxana, and her thirteen-year-old son, IV. Alexander BC. He had him killed in 310. With the death of his son, Alexander's lineage came to an end.