Coffee Jelly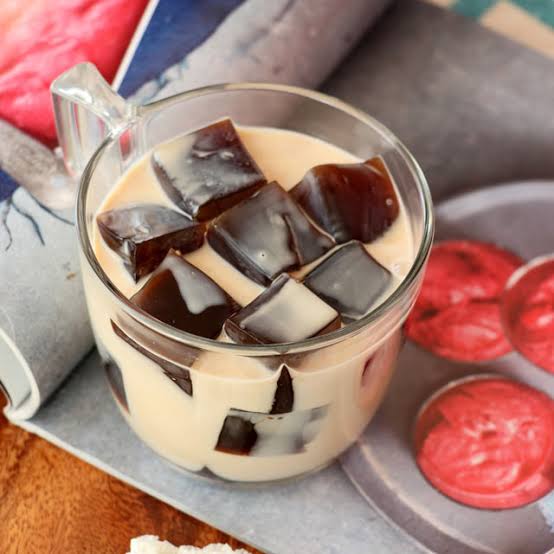 When work at home started, my husband asked me to make coffee several times. I got tired of making the regular coffee until I saw someone selling Coffee Jelly on Facebook. I got intrigued! So, I made one for my husband. I later learned that adding salt to the Milk Mixture gives it a balance of the sweetness. Check out how I make my Coffee Jelly at home!
Ingredients
1 pack of Black Gulaman (unflavored)

1/2 cup of White Sugar

5 cups of Water

2 tbsp of Kopiko Black Coffee

1 tsp of Original Nescafe Coffee

1 390 ml can of Condensed Milk

1 370ml can of Evaporated Milk

1 pack of All Purpose Cream

1/2 tsp of Salt
Procedure
Combine Water, Gulaman Powder, Sugar and Kopiko Black Coffee in a cooking pot. Mix evenly. I always use a whisk to combine ingredients to give it an evenly mixture.

Let it boil. Then, transfer to a rectangular container afterwards. Let it cool and thicken.

In a large bowl, mix Evaporated Milk, All Purpose Cream, Condensed Milk, Original Nescafe Coffee and Salt. Mix evenly using a whisk. Set aside.

Once your Gulaman is firm, slice it in medium sized cubes: do a lengthwise and crosswise slice to achieve it. Transfer the Gulaman Cubes to your preferred container.

Add the Milk Mixture and stir well to evenly spread the jelly.

Chill for at least 6 hours.

Serve!
Please note that coffee alone and coffee jelly taste differently because of the Milk Mixture in Coffee Jelly. Also, its effects from one another differ. Original coffee will for sure make you wide awake buf for coffee jelly, it may keep you wide awake but depends on your caffeine tolerance.
Anyway, now, my husband always ask me to make Coffee Jelly instead of the regular.
You should try it out!