First words... What to write?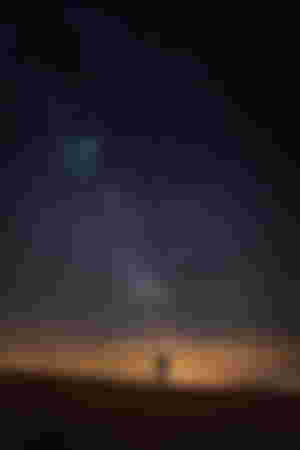 25th, February 2022
Hello, dearest friends. It's been a wonderful experience here so far. I've learnt a few things since I got introduced to this platform. It's been swell, really.
It's dusk in this part of the world. And here I am trying to think of the perfect words to use to describe the utter serenity I'm feeling at the moment. Just a moment my headphones battery went flat while I listened to Novo Amor's Anchor. Now, I'm just feasting my eyes at the wonderful scenery on display in front of me. [If only you guys could see this, right now?]. Smiles... :)
The birds are chirping away, and the leaves rustles with every gentle breeze. It's the perfect evening!
I have never been an outgoing person - especially when most of my friends talk about outings they look forward to, or whatever said events they are psyched about. It's not been a thing for me. I'm an indoor person. Always been like that. However, today I decided to do something for a change. Even when I constantly had home at the back of my mind. Lol.
Having fun out is never a wrong thing, it especially helps us to meet and interact with people. See new places and so on. And boy, am I glad I went here. It's been awesome.
During the times I travelled, I usually get nauseous. Each moment on the road felt awful because of it. But, recently, I realized it was because i subconsciously affirmed that any journey I embark on was going to end up being the same abhorring outcome. Well, I said toodle-oo to that mindset, and it helped. Now, I am gradually getting to see the fun side of traveling.
Here are a list of places I'd love to go to.
The Nike Art Center:

It's got a fantastic art gallery with tremendous pieces of art on full display. Whenever I have time to visit there. I definitely would. Cos who wouldn't?

Elegushi Royal Beach:

The beach has always been a place I've wanted to go to. Talk about a place for relaxation. One more stop in my long list of to-dos.
It's gotten quite dark now. A fun day well spent. From starting the day doing upper body exercise, to leaving home and exploring, and finally playing video games with familiar faces. I'll be retiring to bed hopeful for a fantastic weekend.
To think I didn't know what to write in the very beginning. Now I understand that everybody always has something to draw from, something to write about. It doesn't matter how you feel at that particular moment, you always seem to know what to do when you, eventually, pick up your pen to write on your notepad. In a way, it helps us to direct our thoughts and improve our mood. A major reason why I find solace in writing whenever I feel down and out.
I especially remember the time when I needed to get a breather. I was alone, and burdened with a lot of responsibility that it seemed that I would be crushed under it's heavy weight. (I learned that everybody, at some point in their life, go through hard times). I became less concerned about a lot of things. It happens when you are at the end of your rope.
I didn't get over it alone. I took my time trying to get around the fact that with everything that's happened I also deserve a life free of burdens and regret. Someone really dear reminded me I wasn't alone. Speaking to her felt exhilarating at first. I was refreshed. My heavy heart became light. I could see things differently. Her inspiring words triggered something. It brought a light. I held on to that, I'm still holding on. It's a great thing to have someone who supports, listens, and encourages you to carry on.
Most people think reaching out has been overstated. That people shouldn't voice out whatever, and thus they should remain in that downward spiral of retrogression. Perhaps, when the time comes they'll get to heal and move on. Unfortunately, that may be too late. Maybe it has to be overstated. The world wouldn't get less burdensome. It's a fact! Prioritising our Mental Health is key. It's our responsibility to remain sane. That's what helps our mind. True happiness lies in focusing on what really matters. Deep down we search for what it means to be happy. The answer has always been there. Right under our noses. We just fail to see it.
It's important we know what truly matters to us. My first words mayn't been thought about from the outset. But, like I said we only know what to write when we start. Coincidence? Nah! ;)
May we not lose sight of what matters.
Thank you for reading. :)