Many of you that read my previous articles knows a bit about me. Before i used to sell everything, everything I know it would be possible, like our used clothes but good quality and still looks new. Things on the online and before I'd learn this stuff I'm a Vendor of fish and eggs.
Sponsors of UsagiGallardo215
Thank you so much my dear sponsors, subscribers, and readers God bless us all.
If you read my article "He was Drowned and Died" you'll see the exact location of our house and before we became husband and wives he was the ideal fisherman. I'm proud to say that we have our own water connection because we had our savings from the fish he caught. He sell in (panasahan) or fish port. It was year 2011 or 2012 that we had it. He used panguryente or fish electricity. It's kinda dangerous but we have no choice but to take the risk. The video below will help you understand the materials needed to make the apparatu.
You need battery of a motorcycle then you'll attached the negative and the positive to the ends of the fish electricity then that's it. The video below will illustrate how my husband was doing while catching fish. The stick will point then you'll hear a sound, when the sound change or if it was pointed to a fish it will be electrocuted and that's it you just need to be patient so when you come home you'll have many to sell and also to have the meal for the day.
My husband usually catches mud fish, cat fish, tilapia and the expensive of all is shrimp it cost about $6 to 7$ per kilo and you know what we only eat the creature that was dying. This was the technique we used because we really want to earn and we want to have water supply on our own. Because we only fetch water from our neighbor. And I've pitty my husband because do you know how much weight he carries in his back. Think of the battery and the apparatu how heavy those are, about 4 kilos already then he'll came home brought almost 10 kilos of fish and we put in the biayan. How hard is that? He'll also walk distance wearing nothing on his feet. Sometimes he'll come home with wound and he only ignored the pain while so tired and he didn't want to see him feeling weak. The pictures below are the kind of biayan.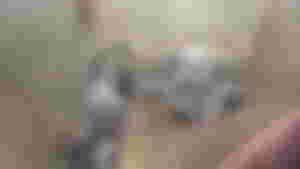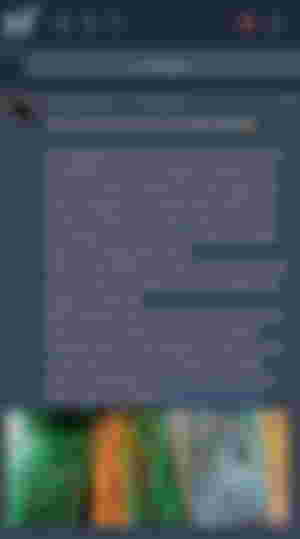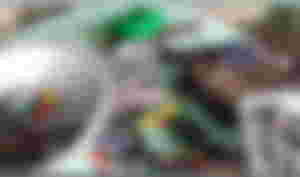 I was really Shocked on the procedure that were going to do, one is the metal tingga My husband will cut those into pieces then he will attach it into the green roap and one by one he'll gently hit it with hammer until it the edges are gone. That what he called paboto or weight. After that rubbers he'll also saw it one by one so the upper part will float.
4 months ago I shared in noise.cash how hard it is to make net that will let us catch fish in the water. And I witnesed and experienced how hard is to do but with all the hardships it all worth it to do. After weeks of making the net because my husband had only 2 days day off will now try if will have a lucky day.
Then after we look at our trap net we saw many fishes attach to it and bingo we have meal for the day the excess will also become money. I'll sell it into our Barrio I only walk while i carry the pale filled with fish inside. But it's already packed pee kilo, Before I got home I'll buy something for my kids and the good thing the money that I have will be mine my husband said I'll be the one will decide what I'm going to buy on this and I only save so when we need money we have on our piggy bank.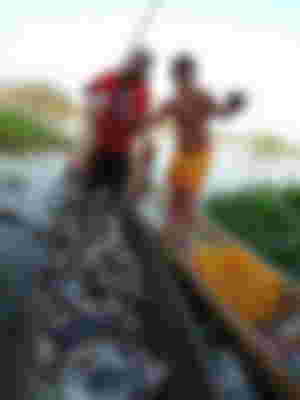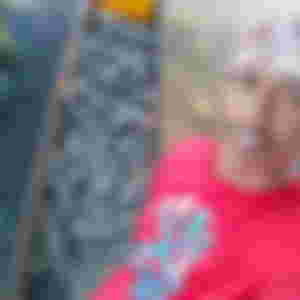 The guy with the Yellow short is my husband and the red lond sleeve is my brother in law Mariels father. See those fishes inside his boat he also uses net to catch those fish. His also a good fisherman and his more expert than my husband he catch those fishes in one night time. And that's how good he is. And lots of those goes to the fish port to sell or to the Barrio.
This kind of work really helps a lot of family to survive and we where one of those, the screen shot from my nosie account my husband still used this kind of strategy even If his working 5 consecutive days. In his day off he still catch fish for us to save money and also have fresh fish.
The good thing is my husband never forget where he first earn money, but change will come we need to upgrade ourselves because the time will come our age will tell us we can't no more catch those fishes in the water. The new opportunity will knocks on our door and Fisherman's don't have the benefits like having a regular work on a company. As we compared like we don't like too, it's more a lot easy to work in a regular stable job filled with benefits. But I'm not saying fisherman can't give his family a good life I know many fisherman has a beautiful house, big boats. What important is we did everything for a reason and that's all that matters for our family.
____________________________
Thank you for dropping by your comments are important to me 🤗
Love, UsagiGallardo215 🌙
All photos are by yours truly 😊
My Daily task as a full time Mom
My husband has psoriasis and he was Enchanted