What Destroys the Security of Digital Identity?
First of all, let us know what a digital identity is.
A digital identity is an online identity that helps you to access various services and utilities over the Internet, including banking, corporate, social media, and other online accounts.
A digital identity is generally associated with a username and a password.
Most of us often use our digital accounts on big techs like Google, and social media, such as Twitter and Facebook, as digital identity provider platforms.
---
The topic of today's podcast was "What destroys the security of digital identity."
This morning, I interviewed Hitoshi Kokumai, Founder and Chief Architect of Mnemonic Identity Solutions Limited, UK.
Hitoshi Kokumai elaborated on how the big tech corporations and social media giants continually propagate a false sense of security among global citizens.
Please watch the video recording of the podcast available on LinkedIn and Facebook.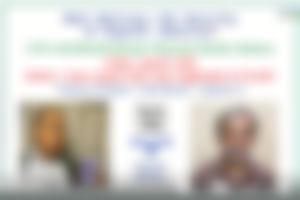 Screenshot Source
---

Screenshot Source
I practise STEAM (Science, Technology, Engineering, Arts, and Mathematics).

I have always smelled security holes in blockchains and other distributed ledgers.

But, the innovations in distributed computing are worth experimenting with in real-life use cases.
I develop password security and cybersecurity solutions relevant to cryptocurrencies, blockchain, and blockless distributed ledgers.
---
Will you review my ReadCash blogging communities?
---
Twitch: Debesh Choudhury.
Odysee: Learning Times, Debesh Choudhury, Music, Film, etc.
YouTube: Learning Times, Debesh Choudhury.
Watch the earlier podcast episode, "Democracy and Identity Assurance," with Hitoshi Kokumai, here https://lnkd.in/d5YxANhQ
It was recorded live on September 22, 2022.
---
Cheers!
Unity (Debesh Choudhury)
Text Copyright © 2023 Debesh Choudhury — All Rights Reserved
Join me at
YouTube, Twitch,  CashRain,  Odysee,  LinkedIn,  Twitter, Publish0x, ReadCash, NoiseApp, and Facebook.
Earn passive income by sharing unused Internet bandwidth on Honeygain and Peer2Profit.
Lead Image:  A screenshot from a video.
All other images are either drawn/created/screenshots by myself or credited to the respective artists/sources.
Disclaimer: All texts are mine and original. Any similarity and resemblance to any other content are purely accidental. The article is not advice for life, career, business, or investment. Do your research before adopting any options.
Unite and Empower Humanity.
#digitalidentity #password #authentication #security #technology
April 07, 2023