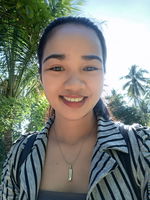 Good evening everyone! Today is hump day, and I hope you are all feeling great. I wish your good health and your safety. Tommorow is Thursday and another few days it will be end of the week already. Time flies so fast and I don't know if I would be happy or sad about it. But one thing is for sure, I am so much grateful of the opportunity of living every single day. I thanks God for the opportunity.
Lead image from Unsplash
I thank God as well for giving me such wonderful people who choose to journey with me every day.

Thank you so much kind souls.
Today I would like to write a letter to my future husband, since I am not getting any younger, I guess I should prepare myself for it. Because two things is certain in this life of mine, I am gonna be a wife or a full pledge single, who knows. Lol. Life is not certain so let's think positive and enjoy life. So, allow me to share to you a letter to my future husband.
Dear future husband,

I am writing you this letter to let you know that I am waiting for you. I don't know if I'm gonna be happy or sad about it. But I wanted to be more positive about it too. Please, don't take so long. Maybe three or four years for now I would love to hear a proposal from you. It would not be necessarily that extravagant or costly, just a simple dinner with you would do. Or a movie with popcorn and ice cream. Nah! Don't think I am being choosy but I am giving you an idea on how it could be as simple as that would be absolutely fine for me. As long as it's from your heart, it is more than acceptable.

I am looking forward to see you waiting for me in the altar. You don't need to spend on costly suit to look good because you are the most handsome man in my eyes. A white shirt is great. Don't spend to much money for the wedding because I don't need it. Everything that we do together is memorable to me weather it's cheap or not. I want you to spend those money instead for the future of our family, of our children. Maybe I can just buy a white dress for the event. And it would be just as perfect as it should be. As long as our love, our hearts is with us as we promise through sickness and health, 'til death do we part.

I would love to have a simple home with you in the future. For me a home for our family is very important cause it is where we will raise our children and create a beautiful memories together.

I want to let you know that the journey would not be easy. I will have my bad days, my mood swings, my lonely days without any reason why. There will be days that you can't seem to understand me. Oh! believe me you don't need to because honey, I only needed your hug. Your calmness and the assurance that even if you don't understand me anymore. You will still be with me because that's what we promise together.

Honey, I always want cuddles. If you don't give it to me it will be so odd and I will get confused and suspicious. I will surely throw tantrums and dramas. I always love icecream. A kiss on the forehead will surely ease all my tiredness and worries. I love to see flowers in our special occasions, even if I don't say it and it's fine to me that you won't give. But I will be much happy if you do. I love to stay with you in the house on special occasions too. But I feel more special if you go out with me on those days.

I want to let you know that I am a nagger but not in a granny way. I want to let you know that when I do that's because I love you and I cared too much about you. Please, listen to my every words for me not to repeat it every single time. Oh! I have this bad habbit of silence too, when you seem don't care to my words and you give me less attention especially to the most important things in our relationship. I don't know yet for now but I know you will know what is it soon. I have trust issues, so I hope you will be careful not to waste them. Because ones it's broken it would hardly be return. So please handle with care because it's very fragile.

But honey....

If you don't come within that years I will gonna find you. And if you won't propose to me, I will propose to you. If you came to me with less I will still choose you. And if you can afford to build a home to our family let's build our house together. If you need more understanding on other days I am willing to give it to you. If you need more space I would not nag you, but I will offer my shoulder to you. You know what I can be more than you think I can be. Much more than this lady who ask to much to you. Cause I can be a loving wife and a nurturing mother. A light to your future home and a compass to guide you all the way to your plans and dreams.

I will pray for you always. For your safety and health. For your strength and determination. And so as your wholeness. Be faithful to the Lord for the Lord is faithful to you as well.

I will always love you. Cherish you. Treasure you. Respect you.

Your future wife,

Grace ❤️
I don't know what's gotten into me that I came to write this letter today. There's something that touches me I guess. Not sure though. Cause I don't really know how to write about those things but I guess I could through this.
Sooner or later I know God will made everything happen. I believe he knew all our hearts desire. Fingers crossed 🤞.
That would be all for today friends. Thank you for being here. I appreciate you so much. God bless.