All of us have different dreams in life. We push ourselves to reach that dream. We fight for it by doing our best today. We became determined, focus, and brave enough to face everything ahead.
There are different kinds of dreams. It could be a dream to become a professional, a mother, a Philippine President, an artist, an olympian, and many more. We can be whatever we want in life as long as we are doing our part. And for me, my dream would be to have our own house. A house would build from our own sweat of hardwork.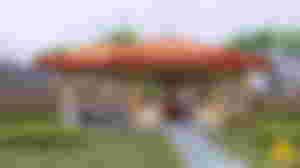 Yes, our dream house is too simple because we just want a happy home and a happy life. 😊
Maybe, some of you can relate, right?especially to those couple who live temporarily to their respective parents or from their partner's parents. It is such a nice feeling that we can have our own house where no one can dictate us what we want to do. No one will control us doing anything to make our house looking nice and presentable to every one who will come and visit us. 😊
Since the day I became a mother and wife, the desire to have our own make me to strive harder and become better for the sake of my daughter's future. My husband as well is doing his best for us so we may have achieve our goal. We both want her to have a good future, a home full of happiness, memories to remember, and God be the center. This is the ultimate reason why I need to reach my goal. A goal to pass the LET and have a stable job after. (If you haven't read yet my article about NEVER GIVE UP, KEEP GOING! Feel free to read and know me better. :)
As this moment, we are living in our ancestral's house of my late father. After our wedding, we decided to stay here for the meantime since we don't have yet our dream house. 😁
Good news came when my older sister told us that she offered or gave us a LOT where we can build our house anytime. We are so happy and thankful to her. It's really a big help to us. What we are waiting for is the money to come in our wallet. Lol😄
CLOSING THOUGHT:
Well, dreaming something you want to own or have isn't bad because it is the reason why we keep on surviving and striving even if life isn't that good to live in, especially nowadays due to pandemic. We are instead motivated despite the difficulties life has offered.
THANK YOU MESSAGE:
I just want to give thanks to my dear sponsors for the sponsorship. To my readers, my subscribers, and my commenters for spending your time here. Thank you so much for dropping by.😊💕