Tips for Setting Monthly Goals for a New Month
You already know what a new month means: New month, new objectives!
A new month is an excellent opportunity to set new objectives!
The chance to set fresh objectives is one of the most excellent aspects of a brand-new month. Every month, when a new one begins, I experience a surge of inspiration.
But, by about halfway through the new month, my new goals and objectives had already been shelved by the middle of the month. It can be challenging to continue working toward your goals after the initial motivation disappears.
It was challenging for ME, at least, until I discovered how to create new, attainable monthly goals.
These are the most excellent suggestions for planning, carrying out, and reviewing my new monthly goals.
Setting goals for a new month
You want fresh objectives for the next month. Setting them is the first step. I follow a few different processes when I want to set new goals for a new month. The essential step in completing objectives is choosing the proper plans. These steps help me narrow my dreams and determine precisely what to set.
Consider the previous month.
One of the best methods to develop is to reflect. I enjoy looking back as part of my end-of-the-month ritual. Reflection is incredibly helpful in moving forward, whether I had a good or difficult month.
Be excited about the upcoming month.
After some thought, it's time to anticipate the upcoming month! The enjoyable part is now that you can DREAM and PLAN!
I will make a list of my hopes and objectives for the coming month to get this process started. This can be as simple as rising 10 minutes earlier or as significant as purchasing.
Prioritize and be realistic.
While less enjoyable, this step is crucial if you want your new month's goals to stick.
You HAVE to be realistic and prioritize the objectives that matter to you. I have a lot of plans, but I'm so busy that trying to implement them all at once would take a lot of work.
Setting priorities for your goals will help with this.
List the objectives that stand out to you as critical or time-sensitive. A long-term goal you set purely for enjoyment will be put on hold if something MUST be done this month.
Even though setting new goals for the month is exciting, balancing your workload is crucial. I usually find it exhilarating to begin a new month with fresh objectives.
Use the adage "new month, new goals" to your advantage to lead a better life!
One method to assist you in concentrating on achieving your objectives is to adopt the "A new month, new goals" approach. These concepts are intended to get your creative juices flowing; you might have entirely different objectives.
Remember to start making significant changes in your life when a new month begins.
---
Let me share with you a photo of mine and my baby Quatro while working and setting my goals for May! (But sorry, she's tired) 🤣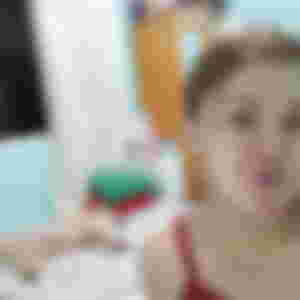 Good evening everyone! It's been a week since I published my article here. So, how are you guys? Happy 1st month of May! May we achieve all our goals for this month! 
---