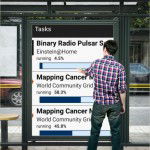 Idea can be like this:
BCH Community starts a pool on BOINC projects computation with Gridcoin

Community Earned GRC are converted and paid out in BCH
Possible disadvantages:
Pool may require some administration

Earnings may not be high although these should include 10 GRC block rewards in addition to the compensation for computing scientific tasks..
Possible advantages:
Promotion of BCH community

Help to scientific research
This option is also possible to do individually, without community and and a pool. There are 2 options available:
Via GRC pool and Boinc on PC or latest Android App 7.16.16 (not yet on Google Play but on BOINC website). GRC pool takes weeks to gain magnitude and earnings on CPU are not high

Via in-browser mining (Brave, Opera, Chrome, others) with Microgrid and daily payouts / interest added with Freegridco.in.
Then GRC can be transfered at no cost and exchanged to BCH on SouthXchange or elsewhere.
Both android app and in-browser mining are technically simple.
However, an advantage of pool can be in earning block rewards and conversion to BCH. As GRC has no convenient wallet with private keys.
Earnings won't be high and these will not be higher vs. GRCpool already available but the point can be if BCH community finds this project interesting and fun to promote BCH.
Links:
Freegridco.in has added an option to withdraw in BTC, DOGE, LTC, DASH but not BCH!