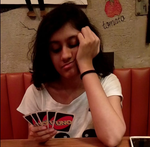 No puns, no fancy vocabulary, no silly jokes, or unfunny jokes either. Just simple and noteworthy incidents of my life to accolade two exceptional humans put forward in simple words.
About a year and a half ago, my typical schedule looked like this:-
6:30 am to 10:30 am- Classes for Strategic Financial Management
11:00 am to 8 or 9 pm- Internship
10:00 pm to 12:00 am- Homework/Revision of things I studied in class
12:00 am- Deal with my excruciating painful and never-ending breakup
Wake up in the morning with a tired look on my face and swollen eyes the next day and continue with the routine.
I hardly had any energy or will to eat or sleep. I had grown visibly pale, looked physically feeble and my hair was thinning. Taking pictures or looking in the mirror was the last thing in my mind.
My counselor asked me to perform a skin-care routine and Yoga amongst other things. I discontinued counseling.
During my Strategic Financial Management classes, I was a part of a group of three or four first-benchers who would give answers in class.
One of them was 'D'. He always had snacks, a lot of them, and would always offer me. He had recognized my favorite snacks and brought only those ones in two tiffins, one for him and one for me.
He knew very well what was happening in my life.
He would randomly take pictures of me and praise me for how pretty I looked. I believed him too because he never showed me any of those pictures. In all honesty, there's no denying, my appearance was indeed awful.
I wouldn't have believed him had he shown me those pictures.
As time passed, and everything got settled, he sent me those pictures. I truly looked sad, but when he said that I looked pretty, I believed him :)
I tend to get a bit reckless with time after my exams until the results. I have been accused of living a frivolous lifestyle too. I am mostly sluggish when I have idle time, and no aim or goal. They have caused me depressive episodes in the past.
My exams ended in the last week of July this year.
While I was on a spree of binge-watching, eating like there's no tomorrow, and the never-ending will of not leaving my bed, I was also chatting with a guy.
Within few days, I knew the guy was clearly smitten by me.
He did everything to impress me- He constantly spoke about working in a big company and drawing a handsome salary. He shared pictures of his fancy car and imported gadgets. He spoke about lavish vacations. He discussed his active social life. He told me about his 'premium' gym membership and a healthy relationship of his spiritual life too.
But most importantly, he told me how content he was in his life.
Day by day I began despising him. All this information about him was only pushing me away.
He constantly told me how beautiful I was, inside out. Of course, I never believed any of it. Rather, I found it annoying and disingenuous because I knew that wasn't true. Yes, I have low esteem comparable to Mariana Trench.
"Why do you even like me?", I asked.
"It's the things that you do and the things that you say. The way you simply are- you are just lovable".
They might sound like generic statements, but sometimes, these things are required to be said, and they're needed to be heard.
"Why don't you like me?", he asked.
Here there's a guy who is living a perfect life and is deeply interested in me. But I found it impossible to make a connection with him. You see, it's hard to trust someone with your vulnerabilities unless you see a matching vulnerability in them. In some basic way, it is our imperfections and even our pain that draws close to us.
That night we shared our playlist and were listening to songs up until the sun came up. He and I, with our hands intertwined, 800 kilometers apart.
You can learn a lot about someone from their playlist, and I did.
The next day he was busy at work and couldn't find the time to text me. While I spent the day waiting for him to text me, I caught myself checking his Instagram and smiling at his pictures :)
There was no possible flaw in this man. I disliked him due to my own insecurities. I never discussed these things with him, but I think he realized.
He encouraged me to take up a skill and even offered to teach me.
Now, I spend my day learning two skills, cooking, reading books, and writing on read.cash. I even go to the gym, the membership to which I already had. He had changed me for good.
"Dating is really not in the cards for me right now", I had to let him know this.
"I'll be here", he replied :)