Medicine Win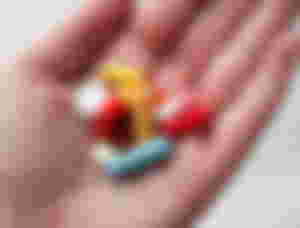 My recent experience that make me feel like a loser but its okay no problem. Since my childhood days I'm very blessed that I suffer from diseases rarely as a result I've never depend on particular medicine. Always proudly I claimed that "Look at me, I'm so good to have no diseases and not depending on any kind of medicine". Finally I lose and medicine win.
Last few weeks I'm suffering from ring worm. At first I tried all home remedies to cure it but later I used two powerful and effective creams on my ring worm but for a time it seems gone but again come back. I tried honey, turmeric, aloevera on it but it doesn't work.
Finally yesterday morning I have purchased medicine to eat. This may continue for a month to recover this skin disease from inside. Actually this ring worm is not only a external issue but also a internal problem so eating medicine may can help completely.
People who depends on medicine almost addicted to it. As a result of addiction the power of medicine stop working on body in future. Thing that discourage me that my immunity system seems week and I can't bear ring worm for longer in my body because later it can affect my kidney and some other internal organs. So decide to let medicine win but I'm not going to depend on it for sure.
My mom was a diabetic patient and she used to medicine. When doctor prescribed her a powerful medicine, it doesn't suits her body and at the second day when she took that medicine to suit her body forcefully she died. So I really don't like medicine because it not always life saver. We can't take action against the doctor who prescribed this powerful medicine because we can't get back my mom. So always I try my best not to depend on medicine but this time I lose and having medicine for this unbearable ring worm.
Counting days when the course of this medicine will over. I try to consume healthy foods but still my immunity is not as expected. Wish to get well soon, remember me in your good wishes and prayers.
February 02, 2022 | ©SHOHANA