Budgeting and Saving for Christmas
HAPPY SUNDAY! Whoa, I just check the Calendar in my cellphone and we are already at the 20th day of the month. That fast, my goodness. Just a few more days and we will all say Hi to December. Christmas, Christmas, here we cum! Are you all ready for your Godchild? As for me, I have my nieces and I don't know what to give them.
I am thinking of just giving cash and bahala na sila of what they want to buy using that money. And really, I am not good in giving gifts talaga that's why, most of the times I just gave them cash because with that they can decide on where do they want to spend that cash. I think that's much better than to give them a thing that I am not even sure if they will even like it, lol.
And by the way, speaking of cash. We're gonna talk about money today, hihi. Who loves money? Of course sakin, Matic na tataas ko agad kamay at gums ko if ever someone ask me that question, lol. I just love it that when I can't find cash in my wallet, I feel pain all over my body, haha. And only money can cure me. How about you? Money is love! If you don't agree with that, then sure. It's you choice.
Okay, going back to the money.
Last November 12 when I withdraw some money using and sell some of my Bitcoin Cash. I sent it to my GCash and cash it out I'm with Mama when I did that. Overall, I got 600 php. When we went in the market we go directly na din sa bilihan ng mga meat and fish. We don't have viand that time so I spent 120 php for a half kilo of fish and then we went home after.
The next day, I bough 5 pieces of egg and spent 40 php for it. Not just that because I also bought 4 more pieces of it and that is another 32 php. I am just happy that in my own little way, I get to provide for our everyday needs. It feels great to do that talaga, and I can't help be to be proud of myself, yiehhhh. And when I cash out that money, my thought is, I will only spend it to what I need.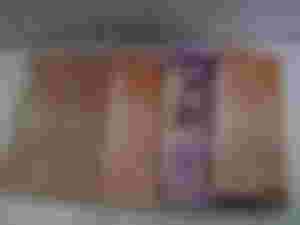 Needs, including my allowance. I have no total amount of how much is my total allowance because I also use it for the three of us or the whole fam. And that allowance includes my snacks and some other things. Now, when I check again the money left in my wallet, I only have 180, isang 100 na buo and 4 pieces of 20 php na papel. I am not sure yet if I have coins hiding somewhere but I hope so.
So, that whole 600, I got it last November 12, we are on the 20th now so, today is the 8th day since I got that cash. And I still have mya 180php which I can use for more days. That's just how katipid I am this week and I am so happy with the result. With the market situation today, being wise on my spending is the best I can do right now to survive. I avoid buying unnecessary things for now.
I avoid buying snacks that is much expensive and I just go with a biscuit. And to be honest, I don't buy that much snack in the past few days. I was able to do it, mind you, lol. I just ate dinner early and I will include my meryenda in that dinner. I can do it naman so it's not bad. And I don't starve myself duhh, I am just being matipid and just spent on the cheaper foods out there and that's it.
I am also doing this because I have to spend a lot next month. I also want to buy something for myself kasi, as a reward. I also want to buy something for my Mother. I asked her yesterday, what she wants for christmas and she said, shoes. So I will save more while I still can so I can buy that. Budgeting is really hard but we have a choice on how we will be successful on doing it. Right? Right? Hihi
---
November 20, 2022
--