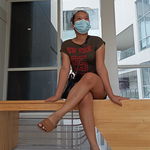 Hello everyone. It's another day and another blessing from God.
And I'm here again bringing another story happened in my life.
I never thought I will be joining this platform,as I am not good in writing article knowing that I am not good in English as well.
Before, I used to only watch tiktok videos, stream youtube, and just scrolling up and down pon facebook. And my only focus is to take good care of my son,and do some household chores. Then I realize, life is getting more difficult because of the pandemic and most of the people lost their job, so instead wasting my time in social media I find for another source of income. With that said, I accept to join read cash introduce by my cousin, at least I can earn soon and able to help my partner with our expenses.
Then one morning as I open my cellphone, I receive some goodnews,its from my cousin who is already using this platform. She sent me a screenshot that the "Randon Rewarder" already notice my article and giving some upvotes on it. Ofcourse I was shock, I can't believe that the "Random Rewarder" will notice my article in just a couple of days. (Sana mag tuloy-tuloy na,sana din hindi ako saniban ng katamaran.) Then I thank my cousin for bringing me such a goodnews. And because of my excitement I immediately open my read cash app,unfortunately I can't proceed because of a very slow internet I have. (Alam mo yung feeling na excited ka na tapos panira ng moment yung internet mo.) Then I give it a try again and finally I was able to open it, then check the notification,and yes its true,there are some notification from "Random Rewarder".
It really makes me feel happy, and it gives me the motivation to continue in this field not only because for the money. And my Papa taught me as well that, "It's not how much you earn, but at least you are getting something even for a little amount."
I admit that its not easy to make an article everyday, but it challenge me to do so. Because everytime I read some inspirational articles it gives me the courage to strive harder. And I learned from my partner, that I dont need to compete myself by the work of other writers, instead to give love and enjoy on what I am doing. I also believe from the saying that "constant practice makes perfect." (Kailangan lang talag ng konting push at pagsisikap)
So I start making an article, even though I know my grammar is not good as others, and my vocabulary is limited. However,as long as there is someone who is believing in me, there is no reason for me to stop no matter what, because if I can't do it now,then when? The time is ticking, and I dont want to miss every second of it. At first I have no idea where to start and what to do, I dont even know what to click first,but then there is someone who keep on reminding, and giving me some tips,so I push myself to try hard,and finally I published one article. By publishing one article it makes me feel proud of myself.
So before I end this, I want to take also this opportunity to thank someone for her kindness.
@Janz I want to say Thank you for introducing me this platform, where I can share my experiences in life. Thank you for not being selfish in sharing all your knowledge about read.cash. Thank you for your support, even that you have a class to attend, but you still giving me an update, you asking me of how my day goes. And everytime I have some questioned to ask to you, you never hesitate to answer and you giving me your fast reply. You also giving me the advance information on "how to do this" and "how to do that". I cant thank you enough,but I just want you to know, that I really appreciate your effort.
And I just want to leave this quote, "The heart that gives thanks is the happy one, for we cannot feel thankful and unhappy the same time." -Douglas Wood
Thank you for your time reading this article.☺️
Keep safe everyone, and Godbless us all.🙏♥️
Lead image source from Google.