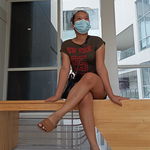 Before this special day end,let me share you something.
I met this man when I was in highschool,yes we are a highschool lover, from puppy love to true love. And our story goes like this.
Well I don't have any plan to get involved in what they called "Relationship",since I was just too young to know about what truly love is, and besides I have so many priorities in life that time, and that is to finish my study, aside from that having a relationship with someone didn't came up into my mind for the reason that it may affect my study and it can be a burden. But I cant stop destiny.(masyado syang makulit,hehe)
Everything starts one day I'm too busy watering the plant of my adviser, and out of nowhere my brother appears in front of me,I was really startled that moment,and saying someone wants me to become his friend,and I was just huh? I dont get it, so my brother added that there is a boy who is attracted to me (ganda ka girl? Haha), ofcourse I didn't believe him from what he's talking about,instead I ignore him and go back to our classroom after watering the plants,because I know he's just making fun of me again.
Another day come, I receive a message again from my brother telling that the said boy really mean it, so I was in shocked that time,and I didn't expect sending his regards again,maybe he's telling the truth,well I don't care and then ignore him for the second time around. But the boy did not stop,he keep on courting me and giving me some fruits. You know what I feel bothered a little bit because I dont trust a guy (pakipot si ate,,syempre pa hard to get din sometimes,alangan namang sagot agad,pero makulit yung kuya ko.) My brother told me to give him a chance, then I said fine.
To be honest at first I don't like him,because he is too short,yeah his hieght is shorter than mine. However one thing I like about him is the way he dance,because he is the one of a good dancer in our school,and his dancing skills attract me the most also his dimples. Haha. Until such time I didn't realize that I was falling in love with him. We getting to know each other everyday,and I start feeling comfortable with his companion. And after a long wait,I finally said yes to him,to become his girlfriend that was way back July 27,2009. Besides I start building a trust towards him.
After few months of being together our relationship starts to bloom. We already feel the comfort of each other and the happiness when we were together. He even introduce me to his parents and that's make me feel special. He do a lot of effort and never fails to surprise me. I remember one time he gave me a flower that is made by him, because he can't afford to buy me a flower from a flower shop,he dont have enough money that time,but for me it doesn't matter if it is a cheap flower,what matter the most is the effort he put in it just to make me feel happy,and his effort is enough more than anything else.
I can't believe myself to fall in love with him,and now he is the one that I dont want to loose. He gave me so much joy, he did taking care of me and show how much he loves me. We may don't have a perfect relationship,but I can say that we grow together,we learned from our mistakes,we learned how to forgive and we learned how to be contented.
Now I really thank God that I met him and became a part of my life despite the challenges that we've been through. That is why I cherished every moment that we have and with him I can be myself.
Our love is sharpened by the stone of our challenges, and strengthened by the strugglesof our growth. -Dr. Steve Maraboli-
Thank you for your time reading this☺️
Godbless us all🙏 and keep safe everyone.
Lead image from Unsplash