Gift?
Some silly dream!
Elena thought to herself and chuckled. She looked into the glass of bourbon she's holding. She gave it a few swirl and enjoyed the sound of the metal ice chinking. She then raised her glass up and whispered a line to herself,
Here's to one more year living life in this hell hole!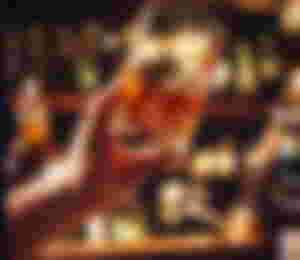 Or maybe she did not whisper it. Maybe she muttered it a little too loud. Because Art, the bartender, was now looking at her. She noticed while she tried to sip her drink as Art was wiping the bar on the other end.
"Are you practicing for a part time job as an actress, Elena? You are acting drunk but you just got your drink."
Art pretty much knows her. She frequented this bar owned by Art for like since she moved out of their hometown.
Wait. That was just last year.
She likes the neighborhood that minds its own business save for neighbors you have come to form some sort of friendship with. Her apartment is just two floors up this same building where the bar is. The bar usually buzzes with a lot of patrons during weekends. Tonight, however, is a quiet Tuesday night.
She was off her work by 3:00 p.m. She decided to take a nap right after. Supposedly it's her birthday. Normal people would be rounding up their friends celebrate this day. Or some gets kidnapped by their great friends to be treated out and to be celebrated. But definitely not Elena. She stopped celebrating birthdays since her 18th.
Wait.That was just a year ago.
It was on her 18th that she somehow had a dream, too. She was talking to her grandma - sweet, sweet grandma. In the dream grandma told her that she would be a " great somebody someday".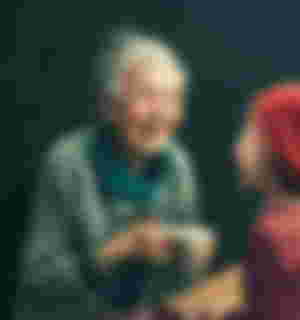 And that together with that somehow "prophecy" she would be "wise in dealing with people". Farther down the detail of these supposedly blessing from her grandmother given to her in a dream on her birthday last year , her grandmother told her that she would be "seeing or learning a lot of things about people".
It was vague.
Her grandmother knows she hates people. She does not like "knowing" about people.
But it was that time as well that everything went even more side ways for her. Somehow after she woke up from that dream she hears two things from one person. - the lie and the truth.
It was maddening. And she thought she got herself stuck in some virtual reality game and that she dozed off after playing for a long time and that this is just a dream.
But, no. She pinched herself too many times and already asked her younger brother to give her a slap in the face and all those hurt like crap but she is still hearing everything - the lie people tell and the truth. It is like the person she is focusing on blurs into two persons engaged in one conversation. One responds truthfully and the other responds "in the best way possible to not get into further argument".
It was hell for her. But she managed to adjust when she moved out. You know, the truth and the lies won't bother you much if it does not come from people you know - your blood, your kin, your friends you grew up with. The only way to go is to move away from them.
The sickening spell or gift seems to be ineffective if she is talking to people on the phone, though. So keeping in touch with old ties is easy.
She tried to get a job but that gift bothers her. It was tough to manage conversations that go favorable for both truths or both lies. It is like she is minute by minute handed over a plate of sudden obligation to either side on the truth or side on the lie. Most of which, both, has moral implications : save a marriage, save a life, save a company from going bankrupt, saving someone from losing their job, etcetera.
So she decided to just stay at home and carry on with gaming as she does earn huge from it anyway.
This day, her dream was another conversation with sweet, sweet late grandmother. Vague still. Actually they were the same words. Eerily very similar.
Except this time, she sees every people with a sort of smoke on their outlines. She scanned the streets before coming inside the bar and yep everyone is enveloped with some sort of cloud of smoke. Flickering colors of white and black.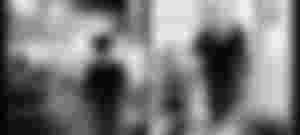 She thought, great! Now what? Do I look for people who only sizzles with white smoke?
But then she realized, no one stays emitting white smoke.
No one stays emitting black smoke.
Everyone flickers and shifts.
Her headache was massive before she went inside the bar and propped herself on the stool. She might as well be hard drunk even with no alcohol in her system yet.
She leaned on the lie and told Art, "I just got called in for an audition."
Why she did it, she does not know.
Pretending still to be drunk and maintaining character, she repeated herself.
Here's to one more year living life in this hell hole!
She added more drunk slur on that one. She watched as Art's flickering smoke move around the bar.
He faced her again this time with a cupcake lit with a sparkler.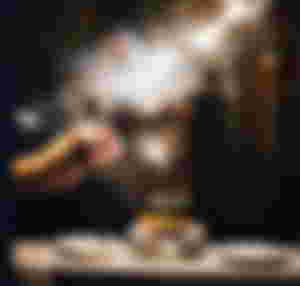 He then sets it in front of Elena.
Happy birthday, silly Elena! He said.
Elena stared at the cake. But her mind was not on the cake. It was the smoke Art emitted when he greeted her.
It was black. An eerie feel of insincerity. And she did hear "die" instead of "day" after the word "birth".
She shivered. Downed the bourbon in one swig. Steadied herself as she felt the liquid go down her throat. Stood up.
Slammed her bill on the bar. Gave her thanks to Art. Took the cake. And against the flow of black smoke-emtting creatures she slowly walked to the entrance of the apartments throwing the cake in the trashcan along the way and went up to her floor.
She buried herself in her pillows and blankets. Prayed for sleep to come and hoping to get to talk to her grandma again.
---
So, what's smoking?
© Pichi28 | #ClubBrokeBCH
All Original Content
Unless specified otherwise...
Images formed via AI Midjourney. Super having fun getting my imaginations captured and formed into an image.