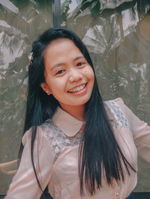 Tragic experiences, traumas of the past, hard to forget memories, that keeps hunting us. No matter hard we try to run away from it, no matter how hard we try to forget and leave it behind there is just no guaranty that we can't remember it. They say all wounds heal, but in reality they leave scars. We may forget how it felt back then, but the memory of what happened may still be vivid clear as if it was only yesterday. It may be long gone, part of painful history, and considered ancient to someone who knew but to the subject person it varies. In every story the supporting characters only knows the glimpse of the main character's story, because we all have our own different story to tell.
Title: It's okay, I'm fine
Author: Petite
Article: 6
Date: October 1, 2021
Last day of the year, last day of the month. Last day but everyone seems to like it, the only last that everyone is happy about. But who would have thought that, that would also be her last.

December 31, 2014 11:00 PM

It was the day she died. The day I didn't expect to come, the day I can't forget.

Who would have thought that behind a happy-go-lucky person, cheerful and positive one lies a sick and weak person on the inside that no one knows about. How could you keep it from me when I didn't keep anything from you.

She was my knight in shining armor, silly as it sounds but she's the one who saves me when I'm drowning in all my problems, the only trustworthy person I can call on when I don't have anyone to call up on. I'm an emotionally troubled person but because of her I can keep up, she always makes ways to lighten up my mood and make me forget my problems when I'm with her. But I was never there when you needed me the most.
~~~~~~~~~~~~~~~~~~~~~~~~~~~~~
It's been a week since she last contacted me, I don't know why but it was a bit strange because she never misses a day to contact me. Now it's been a week already and I never heard anything from her.
"Maybe I should make a visit in her house."
As I went there, nobody's home.
"Strange, where did everyone go?"
*Phone Rings*
"Hello? Who is this?"
"Hey! It's me are you free today? Can you pay me a visit? I'm at the hospital. I'll text you the address."
"Why are you at the"
*Call Ended*
I don't know but I feel nervous and my heart is racing, why would she be there? Is there something wrong? Wild thoughts are now crossing on my mind, but
"Argh what am I thinking?"
Bothered and nervous, but I immediately went to the hospital address she sent me. As I walk closer to her ward my heart is now beating hard, I don't know but it creeps me out when I saw her mom and dad outside her room with red teary eyes and runny nose.
"She's inside waiting for you." ~Aunt May
I open the door and there you are. Your eyes widened and greeted me with a lovely smile. But this time you look different – pale and weak.
~~~~~~~~~~~~~~~~~~~~~~~~~~~~~
Author's Note: This is just a work of fiction everyone, only driven by my wild imagination and all. I will just upload the continuation of the story if you want to keep it up. Anyways, thanks for reading my lovely one. ~Love, Petite. 🦋