OMG! How's your Toddler at Three?
Perhaps my way of teaching my baby into learning how to deal with life's adversities in the future is to develop his problem-solving skills. The way I see which is more interesting for him is "puzzle and building blocks together!"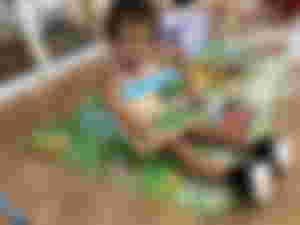 Puzzles are good stimulators for brain development at an age where my baby's growth is still so open to possibilities and creativity. Whenever we gave him new puzzles to work with, he's just so excited to keep doing it over and over again. Early morning, in between throughout the day and at night before bedtime. This has become part of his routine.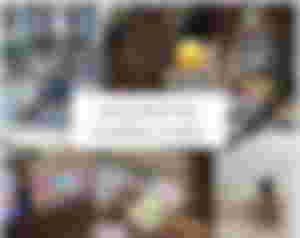 I tried to balance his gadget exposure as he loved doing the "archaeological" puzzles of different dinosaurs where I can't remember how on earth did he even know the names. For example, he can identify T-rex, Triceratops and Pterodactyl.
I had to browse online whether the descriptions were correct. True enough the names were right! Sage has his way of learning things even without me teaching him.
In part of the puzzles where he had to dig, put them together to see what kind of dinosaur it was, he tried to come up with a story about it as he can't read just yet. Instead of reading the information, he would tell me that the dinosaurs were big, and some are bad because they would be eating baby dinosaurs based on the film he watched. He can interact with me and we would have a question and answer portion afterwards.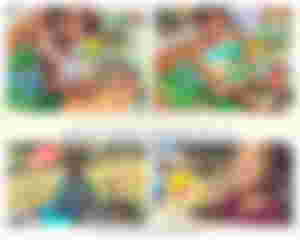 Mommy let's play together!" he would grab my wrist and we would play football/ basketball/puzzle, hide and seek.
During the weekend as he is off from the Childminding, he would make a sandcastle in a small garden in the backyard and he would just tell me to "look at what he is doing!"
We also make it a habit to bring him to Roche Caiman Park/ Sport Centre so he could play with his scooter practising how to "balance" where at first he doesn't have the confidence, eventually gets used to it when other kids are playing around with it. Whenever I see my baby giggling as if there's no tomorrow for him to play, it gives me always a heart full of euphoria.

I could not even understand myself whenever I look at his "initiative" of putting his favourite teddy on his shoes and said, "are you ready teddy, let's go boom boom taye" meaning we will be out for a road trip" so he better be with shoes. I find this photo so amusing that the memories are flowing in smoothly about how myself and his daddy have been able to raise Sage at an age where he is so inquisitive, creative and so talkative! We're both first-time parents so we were learning together with our three years old.
There was one time we had to go to the hospital because Patrick had an ear problem. Immediately he said, "mommy I don't like to go to the hospital". This is in view of his experiences with the doctor who was checking his throat that it was so uncomfortable and told me as soon as we reached home what the doctor told him.
"He should not drink cold water or milk!" He had a high fever due to tonsilitis.
As a first time, mother never did occur to me that having a three-year-old baby can also help me know what are my priorities and my capabilities.
There are days that Sage is a handful and his meltdown is something that I am learning for myself as well. There are moments that resulted in punishment and he knew for a fact that a "belt" means correcting his behaviour if it happens that he's becoming out of control. I got it from my father back when I was still a child but with a huge difference in how it is being employed.
All I know from maternal instinct and based on articles I have read about Motherhood, being firm but gentle with our toddlers is a lot of work to do. Gradually I have learned how to apply it in a more amicable and rational manner. I am so adept in Sage's "formative years*" that I would do everything in my power to reinforce more Learning Experiences for him so that as he is growing, he would only nurture and master things in a more refined decorum.
**