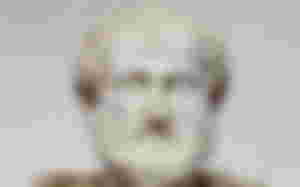 Aristotle is an ancient Greek philosopher and orator, a student of Plato and one of the most influential figures in the history of European thought.
Aristotle was born in 384 BC. n. e. in Stagira, a Greek colony on the Macedonian peninsula. His father, Nikomah, worked as a court physician for King Amyntas III of Macedonia, grandfather of Alexander the Great. It is believed that Aristotle's ancestors were also in this position with the earlier Macedonian kings. He assumes that when he went to Athens at the age of 18, Aristotle also had some knowledge of medicine that he received from his father.
From the age of 18 to 37, he attended the Academy as a student of Plato. Differences in philosophical views were the basis for the creation of various legends about the relationship between Plato and Aristotle. It is evident that there were disagreements in attitudes, since Aristotle very early showed an interest in natural facts and laws, unlike Plato's idealistic attitudes. In any case, there is no evidence that during Aristotle's stay at the Academy, the relations between the two philosophers were strained or severed.
In fact, Aristotle's behavior after Plato's death, his constant collaboration with Xenocrates and other Platonists, and references to Plato's teachings in his works prove that, although there was a conflict of opinion between Aristotle and Plato, there was deep understanding and tolerance between them. Also, stories say that Aristotle had the most disagreements with the Epicureans, who were also known as "slanderers". Although such legends are often found in early Christian writers such as Justin the Hermit and Gregory Naziazin, the reason lies mostly in the solid value system instilled in Aristotle by early Christian heretics, least of all in a well-founded historical belief.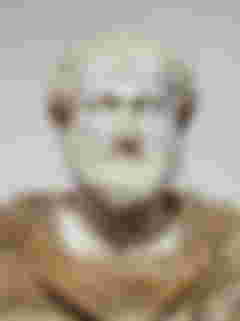 After Plato's death (346 BC), Aristotle went with Xenocrates to the court of Hermias, the ruler of Atarnia in Asia Minor, and married Pythias, the ruler's niece and stepdaughter. In 344. p. n. e., Hermione dies in rebellion and Aristotle goes to Mytilene with his family. After a year or two, at the invitation of King Philip II of Macedon, he went to his native Stagira to become the tutor of Alexander the Great, who was 13 at the time.
Plutarch writes that Aristotle not only taught Alexander ethics and politics, but also instructed him in the far deeper secrets of philosophy. There is a lot of evidence that Alexander learned a lot from Aristotle, and that Aristotle benefited by teaching the young prince (although Bertrand Russell does not agree with these statements). Thanks to this influence, Aristotle received significant funds from Alexander for the purchase of books, and apparently, the renewed power of Alexander's army is a consequence, at least in part, of Alexander's relationship with Aristotle.
According to Plutarch and Diogenes, Philip died in 340 BC. n. e. burned Stagira, Aristotle's hometown, to the ground, but Aristotle succeeded in persuading Alexander to rebuild it.
About 335. p. n. e., Alexander goes on a campaign to Asia and Aristotle, who since Alexander's accession to the Macedonian throne had the role of unofficial adviser, goes again to Athens and opens his own philosophical school. It is possible that Aristotle, according to Aulus Gelius, ran a school of rhetoric during his previous stay in Athens; but, now, following Plato's example, he begins to give regular classes in philosophy in the grammar school built in the part of Apollo of Lycia, after which the school was named Lyceum. The school was also known as a peripatetic school because Aristotle liked to discuss philosophical issues with his students while walking up and down, peripateo (easy walk), peripatoi (around high school).
During the thirteen-year period (335 BC - 322 BC) that he spent teaching at the Lyceum, Aristotle wrote most of his works. Following the example of Plato, he writes "Dialogues" in which he presents the basics of his teaching in popular language. He also wrote several studies (which will be discussed later) on physics, metaphysics, etc .; in which style is more formal and language is more learned than in "Dialogues". These texts reveal the extent to which the materials and written sources that Alexander provided him in due time were useful to him. They especially show the connection of his teaching with the works of Greek philosophers, his predecessors, and how he continued, personally or through other philosophers, the research of natural phenomena. Pliny claims that Alexander placed under Aristotle's supervision all hunters, fishermen and birders in his kingdom and all the overseers of the royal forests, lakes, swamps and pastures, which was very probable considering Aristotle's works in zoology. Aristotle knew the works of his predecessors extremely well, so Strabo states that Aristotle was among the first to start creating a large library.
In the last years of Aristotle's life, the relations between him and Alexander became very strained thanks to the suffering and punishment of Callisthenes, whom Aristotle once recommended to Alexander. Regardless of everything, in Athens, Aristotle was still considered Alexander's friend and representative of Macedonia. Of course, after the news of Alexander's death arrived in Athens and after the riots that led to the Lamian War broke out, Aristotle became as unpopular as all Macedonians. The atmosphere of disrespect and hatred, which was once felt by Anaxagoras and Socrates, was experienced, even more unreasonably, by Aristotle himself. He leaves Athens, declaring (according to the testimonies of many ancient authorities) that he will not give the Athenians a chance to err on the side of philosophy for the third time. He found refuge on his farm in Kalkis in Euboea, where he died the following year, 322 BC. n. e. from a long-standing illness. Stories that his death was the result of hemp poisoning, as well as the legend that he threw himself into the sea "because he could not explain the waves" have no historical basis.
Very little is known about Aristotle's physical appearance except from sources unfavorable to him. His preserved statues and busts, which probably date from the first years of the Peripatetic school, depict a man of average height, sharp features and a keen eye. Based on his texts, will (undoubtedly credible), excerpts from his letters and testimonies of his objective contemporaries, we conclude that he was a highly moral man of mild temperament, dedicated to family and friends, who treated his slaves kindly, was merciful to his enemies and opponents. and grateful to his benefactors. When Platonism ceased to dominate the world of Christian thought and Aristotle's works began to be studied objectively and without fear, in the works of Christian writers of the 13th century (as well as in objective writers of his time) Aristotle is described as a man of mild nature, dignified appearance, modest and without any moral flaws, "the greatest of those who know."