Is this worth it?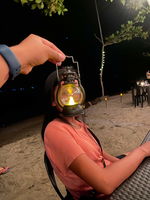 October 23, 2022
My first day isn't typical. I wasn't toured around the place not given a specific task. My first day didn't fall on a Monday. It was Friday. Upon arrival at the workplace, I greeted the guard. I was surprised as he didn't inquire about any identification card from me knowing that I'm a newbie. He didn't ask me who I am and where I am going even. He just smiled and nod his head.
In the first comparison, in my previous workplace, the guard would ask us to wear institutional IDs. They would say, "Good morning" with all smiles.
I proceeded to the room. I have been there before when I have my Form 1 signed by the person in authority. As I entered the room, I only see one person, she was like me. A colleague. She's wiping the glass tables using alcohol and a damp cloth. Interesting!
One, five, ten minutes passed. The workplace is still silent like it's Halloween. I learned that the kids aren't around on Fridays until November. Ahh, that explains the serenity of the school's premises. The classrooms were open. Some are not. Perhaps teachers are making ample use of their time crafting instructional materials or doing reports.
Thirty minutes later, two ladies clocked in for work. They are workers from the Government Internship Program. They are paid by the Department of Labor and Employment.
The second comparison is if they are working in our workplace, they wouldn't have the guts to clock in for work late. As their salary would be deducted and the work demands to be done on time.
I was saddened by the fact that the two just take things for granted. In my week of stay in the workplace, I observe that there is no difference in the time they clock in and out for work. They clock in late and come home early. It was new to me because they don't have anything to do the whole day except for scrolling through their phone. It's disgusting to know that the government pays workers for nothing.
Maybe that's how the system works here. This is why my previous boss was doubtful when she learned that I will resign from my previous job just to pursue this career. Her exact words are: 'The culture there is different.' She said that I will just be putting my work and potential to waste.'
She signed my resignation anyway and now I'm here confused and doubtful. Will this path be worth it? Or am I dipping and drowning myself in a toxic culture?
That I would find out in the next few months.
Thanks for reading. Until then.