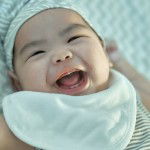 The pandemic had affected a lot of businesses and it is very evident especially in Oslob, Cebu. This restaurant here that I am showcasing is one that has been greatly affected, that they have to shut down. Today, it is not anymore operating, perhaps it will operate again soon but today, it is closed.
Oslob, in the southern part of Cebu province has been well known because of its "Tuki" or the gentle giants, the whale sharks. Both local and foreign tourists come to visit and swim with the whalesharks. I remember back in 2011, my colleagues and I went there very early just so we could get to swim first but then when we arrived at around four in the morning, we realized, there were even more people ahead of us.
This continued to boom until the start of the pandemic. So there were so many establishments which had boomed during those years. Hotels, restaurants, and any other businesses that could help tourists while in the area. Restaurants were of course also increasing and that includes Choobi-choobi.
But due to the restrictions and borders closing, tourists were not allowed to go in the area or even in the island, living the tourist attraction empty of guests, this includes the restaurants and hotels left empty.
This blog is about our dining experience at Choobi-Choobi located at Cancuay, Oslob. This was still newly opened when we went there. Thus, this blog is a throwback of how our experience went.
Allow me to share with you some of my insights for this restaurant.
---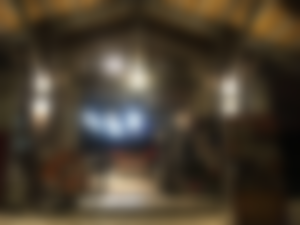 Choobi-Choobi in Oslob has a native but elegant feel. The outside has some of their menu in huge prints and their famous shrimp. It was already dark at 6:00PM when we arrived so the lights were already lit up, there's even a huge restaurant name at the side of the main road so visitors and guests won't miss it.
The roofs are made of native nipa but the wood and build materials look elegant. There were nice and huge lights hanging and its a high ceiling so even though the restaurant is not air conditioned, you won't feel hot or humid. Perhaps it was because we went there during the evening. I wonder if it's hot during daytime.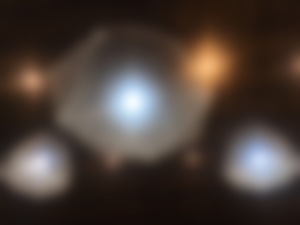 The furniture look very new and they also have their own comfort room area with around three cubicles for the men and women.
My favorite spot would be this wall right here with the sticker leaves: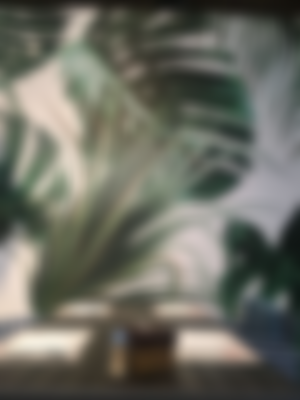 ---
It was not hard to look for crews because they are all around the vicinity, as you can see on the image below, they were cleaning up the tables. The staff and crew are all from Oslob except for the manager. Restaurants and businesses were good to the Oslobanons because they produce employment!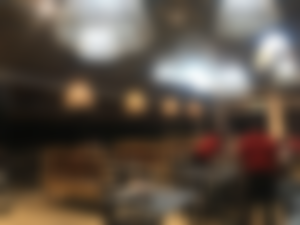 The restaurant is still new so the crews were all optimistic in providing service and help. But I had to ask for a high chair twice before it was given to us, perhaps the first crew whom I asked for it forgot about my request.
Nevertheless, it was easy to find them and they attend immediately to their customers.
---
I have not dined in to any other Choobi-Choobi branch so I am not sure if they have the same price but for nine adults and one child, we paid a total of Php 2900+, it was not bad at all. Here are our ordered food: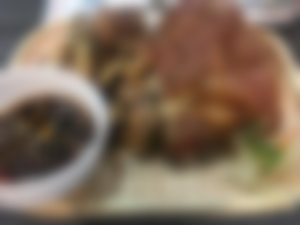 This was crispy on the outside but very tender on the inside. The plate by the way is plastic, was really thinking it was native rattan made on the first look.
I can't recall the exact pricing but this is the family size, I really thought it would be bigger in serving but it was not that big, still, it was good, everyone loved it.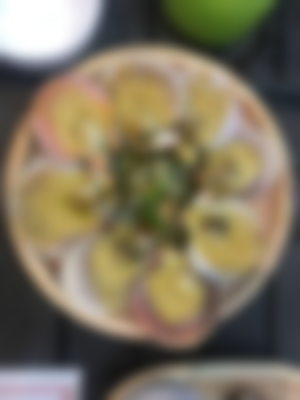 Baked scallops of course is a must but I didn't like this that much. Others didn't like it as well, it was just James (my husband) who ate like half of it.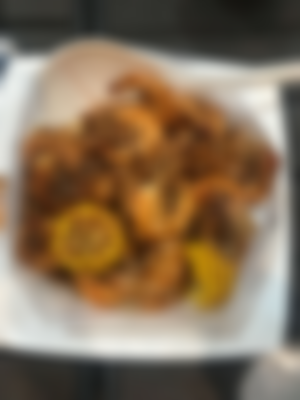 Shrimp in a bag which contains sautéed in garlic shrimps with some corn cobs. This was a hit of course. Everyone loved it and nothing was left on the plate or the plastic bag afterwards. This is also what's Choobi-Choobi's bread and butter.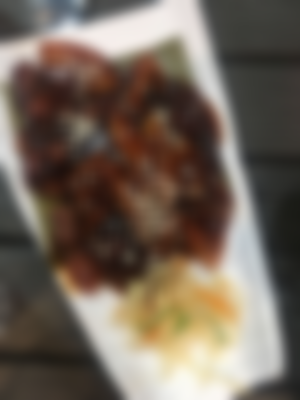 I don't know what's the name for this specific dish but its pork belly with a sweet sauce sprinkled with some white sesame seeds. It was sweet so you won't distinguish the pork fat unless you scrape that brownish sauce out of the way. We got two plates of these.
On top of that there were numerous cups of rice of course because rice is life for Filipinos. There were three pitchers of different tropical cold drinks and a bowl of monggos or Mung bean soup.
---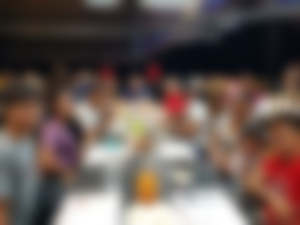 Everyone was satisfied with both the food and service so this is definitely a good spot to spend time with the family over dinner.
As a piece of additional information, aside from this being a restaurant, they also have some view deck as it is facing the ocean. We didn't really see anything because it was dark.
If you happen to visit Oslob, I highly recommend you try dining in at Choobi-Choobi only if they'd reopen once the pandemic ends. Everyone is hopeful that this restaurant will recover, there are still a lot of restaurants around Oslob that are still doing business but since there are fewer tourists, I believe the owner decided to just shut it down right now. As soon as tourists will come flocking again, I am sure that the restaurant will open again. The building is still there, they just placed a sign that it is closed until further notice.
Once that's open again, we will surely visit together with the family.
---
xoxo,
momentswithmatti Mother | Boholana | Cebu | Philippines | Travel | Photography Enthusiast | Calligraphy | Art | Crypto Noob
Sponsors of Momentswithmatti