Day Two in JPark Island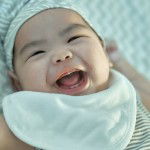 Our little family went to Mactan Island and checked in at JPark Island Resort two days ago. This and all of the things that happened that day were narrated in this article: From CCLEX, Africa, and JPark Island Resort!.
Today, allow me to share how our second day at the resort went. It was a long one too and some plans were not pursued as well, I'll tell you in a bit.
Our day started pretty early. I woke up at the right time, it was 5:20 AM when I checked my phone and as I checked outside, sunrise was waving so I woke up my husband who went straight to the balcony.
Because of how my husband pulled the sliding door, the baby woke up too. He cried realizing I was not beside him. So he rose as well and I carried him outside telling him about the sun.
Here's the view: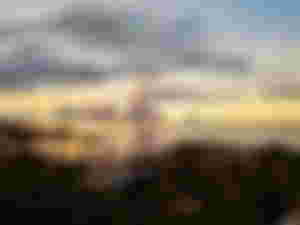 The sky was dramatic. Our room is on the 10th floor and it has a sea view as well as a clear view of the entire resort. There were no sign of anyone outside the resort, it was still very quiet and all I could hear were chirping of the birds.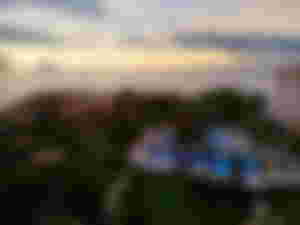 We then waited a bit, the husband set up the camera for a timelapse. What's really amazing is the presence of the rain in the distance. It's just beside the sunrise and it was quite nice to see the contrast.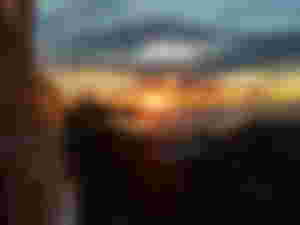 As the sun rose and showed its majesty, I can't help but worship the Creator. God's glory was shining through and we just have to savor this time. Being with the people who matter in my life and praising the One who had given us the grace and blessing for this opportunity.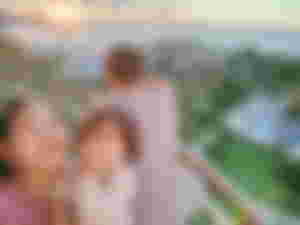 Indeed, it was an amazing time to be sharing this beauty with my little family. I just realize now that it was Matti's first time to see a sunrise! I am happy to be able to document that moment.
The sun rose up and then it hid behind the clouds, it was the right time to get to the beach. The pools will be opened by seven in the morning and breakfast will be served too by that time. Our plan was to get to the beach early to avoid the hot sun, then get Matti to the pool too then will freshen up, and then have breakfast right after.
Unfortunately, I had red tide so it was unfortunate but it was okay, I am not really that fond of pools but it would have been nice to try the water activities as JPark is known for their many water activities.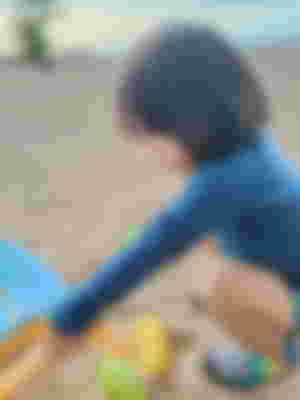 So, in just a bit, we were already at the beach, the weather was perfect, and there were not many guests at the shore so Matti played with the sand. I was ready with his toys and he was just enjoying his time.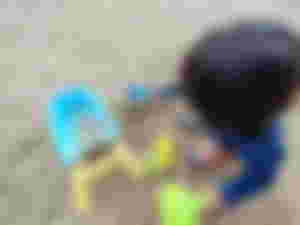 Then James brought him to the beach and they were swimming here and there. More guests went to the beach as it was still 6:30 AM.
We then decided to go to the pool at seven. We passed by the waterparks and took photos. The waterparks will open two hours after.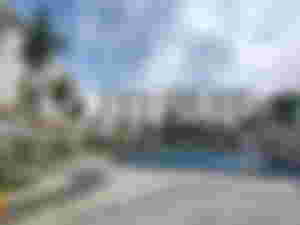 Only the main pool was open and there were no other guests around so we had it all to ourselves. But first, I went to withdraw some cash as we were planning to play at Pororo Park later after breakfast.
The ATMs were located in Building F while our building was in Building A. Here's a photo of the pathway, I love how clean the grass but do you notice the JPark name is not visible? It was damaged by Typhoon Odette and they have not fixed it yet.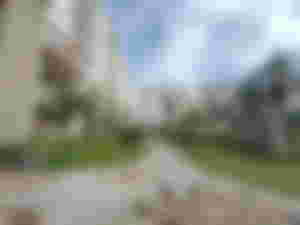 I realized I haven't taken a photo of Matti and James on my phone, all that I have here are videos. Anyway, they were both enjoying the pool, there's a section there which has a basketball ring so they played basketball in the water.
I really wish that we could get to the pool at nine too because Captain Hook's pool will be available by that time but James has an activity by that time so we will just go to Pororo Park instead.
Matti was already tired and hungry too when they got out of the pool. I was just there taking photos and videos of them. I was alright being a photographer and documentation officer.
After taking a bath, we headed to the Abalone Restaurant for the breakfast buffet. I will talk about the experience dining there. For now, here's what I ate: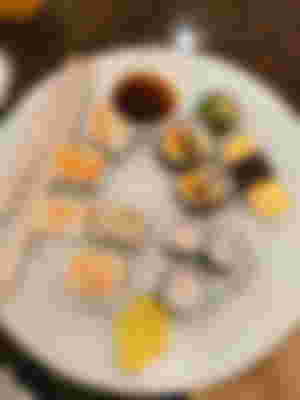 Oh, I was only able to attach the makis, I'll share the rest in a separate article instead. Matti ate a bit of the food we offered him. He drank their fresh juice too while the husband had coffee.
I guess we were there for over an hour. There were actually many guests, I didn't realize it until we were at the restaurant. Some were already done eating while there were more coming as the breakfast is available until ten in the morning.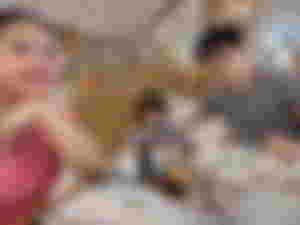 We then headed to the room as the Pororo Park reservation that we set was at ten in the morning. Matti and I were just relaxing inside the room when he asked for milk and slept!
I wanted to wake him up but it seemed like he was really tired from everything that he had done this morning. It was already ten in the morning and he was still in deep sleep.
My husband called after a while and asked if we were at Pororo Park. I told him we were just in the room as Matti was sleeping. He went to the room and then gave us a box of carrot cake.
It was a birthday cake but it isn't my husband's birthday. His company gives birthday cake to all employees celebrating their birthday but since the husband is in Bohol during the past year, they were not able to send a cake over. So they took this opportunity to do so.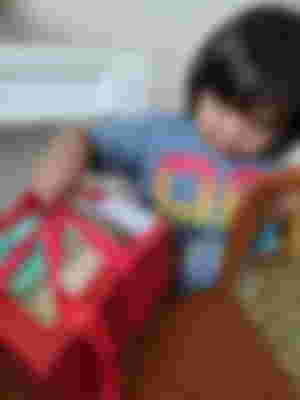 When Matti woke up, he was surprised by the cake and so we ate a slice. It was already eleven in the morning. And so we decided not to go to Pororo Park anymore. James' colleagues brought their baby too so he brought Matti downstairs and they played for a good 30 minutes. It was their second meetup, Matti and Ziv.
Then James brought Matti back to the room and while the husband was with his colleagues for their team building, we were just inside the room. We watched some videos and killed time.
We paid for an extra two hours of stay in the room. That's Php 500 for the late check-out. As soon as the husband's company activities were done, he came back to the room and it was super hot outside that I told him not to bring Matti anymore to the Captain Hook's pool.
So we were just inside the room and enjoyed our time together. We relaxed a bit and then by two, we checked out. We decided not to also attend our friend's wedding because we will just relax at home. It was unfortunate but my husband was tired of the entire day of activities and I understood him so we just went home afterward. We arrived at the house by four in the afternoon.
That's it. Thanks for reading! Don't forget to also check my previous articles:
---
xoxo,
momentswithmatti Mother | Boholana | Cebu | Philippines | Travel | Photography Enthusiast | Calligraphy | Art | Crypto Noob