Don't forget the little things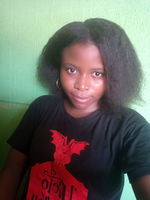 It is often said that it's the little things that count/matter. We tend to overlook the little things because we are yet to accomplish those great things we planned. We think we are just there while others out there are doing wonders, crushing their goals.
But do you know that you being alive means all hope is not lost. You can still achieve those dreams and aspirations of yours. As long as there is life, then, there is hope.
This morning, at my mom's shop, we got a shocking news. We were told that the woman beside us lost one of her daughters to the cold hands of death. The girl died on Saturday evening. She is a 11 year old girl about to enter secondary school.According to the mother, she was very active on that day. She swept the whole compound before coming to shop. She was talking and doing everything well. She was not even sick at all. It was this girl's elder sister that was sick.
She had to stay at her dad's store because he had to go out. Their dad sells provisions-biscuits, chips, bread, soft drinks and other daily needs. Her mom met her lying on the floor. She thought she was sleeping and was about to blame her since she was the only one there and they could steal something since she didn't lock the door. Only for her to realise that she was already lifeless. Her mom called for help and they rushed the girl to the hospital.
She was confirmed dead on getting to the hospital. And according to their religion, they had to bury her on that day. It's just so sad. I saw this girl on Friday. She is the finest among her sisters. She is dark and has big eyeballs. She is just too young to die. So this is how people die. I still find it hard to believe she is no more. May God keep the rest of us.
So, in whatever situation you find yourself, please be grateful. At least, you are alive. A lot is happening in this world
Hope this didn't make you sad? This was not my intention.
I'm excited about this new month. Two ember months left before 2023 takes over. Look on the bright side of life. Say no to negativity.
Stay safe ❤️
I decided to follow through with my decision of writing and reading articles in the afternoon and it helped. I was once a night owl but now I just sleep very early.
I also hope the random rewarder visit often because I have not really been seeing his face these days.
Thanks for reading 😍