Holiday Season is Over, and I Will Surely Miss it!
First of all, I would like to greet everyone a prosperous and blessed New Year! I have been out for a while after the New Year celebration to spend time again with my family. Now that the holidays are over, we are going back to our usual lives again, wanting to achieve the different goals that we have set for the year. There are also many expectations and anticipated events that we are looking forward to happen.
This time, we actually wanted our celebration to be a lot simpler than Christmas since we had a small reunion that time, thus needing more servings and arrangements to be done to serve our visitors who will sgay here for three days.
Before the day of New Year's Eve, we only did a few preparations like contacting several food delivery and shopped for some food items that we wanted to fill in such as ingredients. Since there was lots of leftover ingredients from Christmas, we just used them to save some money and space. There are two desserts that we did that time, namely grahams and cathedral. It needs for both of them to get chilled for hours to hold their form well so it is a must to do them the day before.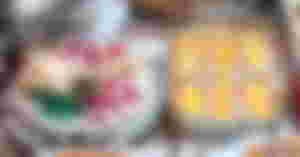 In case you didn't know, Cathedral is called as such due to the colorful jellies resting atop the big creamy jelly that is similar to the stained glass found in some churches. And grahams are usually made with condensed milk and all-purpose cream, layered with crackers called as "grahams" topped with mango slices on top. Our version this time is to achieve am ice-cream like texture so we just used crushed grahams.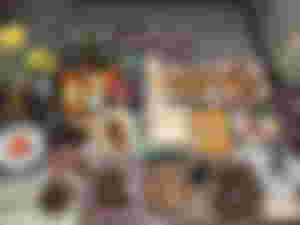 It's only the three of us at home, along with my mother and sister. We decided to invite our lone neighbor as she's only with her pets at the moment. It would be nice to share some blessings with her especially now that she lost her one and only companion in life last year.
We ate earlier at around 11 pm so that we can digest our food faster, while we plan to drink and talk later after the countdown. Our neighbor told us that she was selling firecrackers and lights and she have some left for her to light up. They are mostly fountains and sparklers that are safe enough to handle and we did light some. While we are jumping and making noise for the countdown, our video call on Messenger is on for us to talk live with our relatives at different places. It continued until we are drinking some wine and alcoholic drinks.
After the big feast, there's a lot of dishes for me to wash lol. We have to pack and rearrange every food so that they won't spoil in the fridge. They slept at approximately 2am, while we at the VC started talking and finishing our 1st adventure for the year lols. After that, I slept at around 3am.
During the day, there are lots of food that we reheated and that's our food for the whole day. I feel so full even if I eat only a little of each due to the numerous variety. And up until now, we have some more left, mostly the desserts in the fridge.
I know for a fact that December is a big month for everyone, as most people do celebrate Christmas and New Year, and some events also occur such as weddings and birthdays. In our family, there are numerous weddings that happened within the month. And with every celebration, there's gonna be a family meeting. Family gatherings always make me happy and excited because they offer us an "escape from reality" by making us feel cared for, secure, safe, and entertained. I will never forget the laughter that we had this Christmas and the open forums that happens. We have to wait for another event and celebration like birthdays, or another 12 months for this.
We aim for our goals, intentions, and new stuff that's coming for us. Some people are back to business while others will be back to school. In my case, I am planning to finish some unfinished requirements post-graduation and if ever, finally get to review for my board exam in May. If not, it can be July review for November exam this year. That timeframe may be long, but I feel that it'll pass like nothing. Meanwhile I gotta get busy with BCH stuff and crypto as well as with other interests that I wanted to pursue.
I hope you are going to do well this year, and everything will go according to what you have planned!

[#47] January 2, 2022
Sponsors of MegaKyodaiBanrai