Which option do you dare to choose?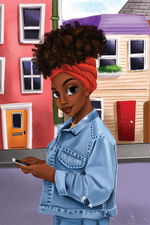 ---
I wrote this article three days ago, but I did not post it, though I posted another one... I've been struggling for close to three years to publish an article, even when everything gets tough, I still make sure I publish three times in a week. Sometimes frustrating days and today I feel like giving up.
why today? Well, today, I want to quit the battle, today I don't have the zeal to write anymore, I don't feel like I have any great ideas and I don't feel like I have the whole time to make my ideas to be great. I think about nothing but giving up today. That's all the heart says when you feel like giving up.
Courage, fortitude, and determination are all characterized under GRIT
I'm going to use some grit today because grit is characterized close to success. When I feel like giving up, I always try to remind myself that Our minds are like a suggestion engine, so I cease to consider each of my thoughts as an order but as a suggestion. Right now, my mind will be suggesting that I feel tired, it's suggesting that I take an easier path and it's suggesting that I should give up.
Pausing for a minute, I also discovered a new suggestion from the same mind. My mind is suggesting that if I stick to the schedule, I will respect the identity that I'm building. My mind is suggesting that once this work is accomplished, I will feel very good about it. My mind is suggesting that even when I don't feel like, I have the proficiency to finish this task.
Remember, as I said initially, all of these are merely options, so I dare to choose which option I'll follow.
In our normal days or week, nearly everything we do is over promptly, maybe you'll have to finish up a task to continue with another task ( task on task), you'll have to type and complete your report before tomorrow morning and do some other things as well. This article will also be completed in just a moment.
Life is easier now than it has ever been, because 300 years ago, you'll die if you don't build your own house and look for your own food, but now, it's a changed story. If you don't build your own house now, you'll rent a place to stay and if you don't plant what you'll eat, you can buy from those who plant and harvest food.
We must learn how to maintain this perspective. We should see that our life is good, our discomfort is not permanent but temporary, we must build the courage and be determined to stride into this moment of discomfort and let it strengthen us.
A great man said and I quote " far and away the best prize that life has to offer is the chance to work hard at work worth doing "
~ Teddy Roosevelt
Once good work is done, you'll never regret it. Anyone can want a gold medal, but few people will want to be trained like an Olympian. We want to work easily at work so often, and we want our work to respected and helpful but we don't want to struggle through our work to gain all the attributes.
Using the analogy of the body, you have a big stomach and you want your stomach to be flat with a strong arm, but you are not ready to grind for the workout. The majority of people don't want a failed attempt that will precede the final result. You don't want to grind but you want the gold.
Have you ever found yourself feeling worse after hard work was done? Not at all. There are days when it is very hard to start, but it's worth finishing. Even when you have the average manner to do something, as far as you are able to show up and build the courage to do the work is a victory worth celebrating.
Take every moment as your life, don't throw away any moment, spend it in such a way that will make you proud and let the world decide. When you feel like giving up, try to show up even if it's not at your best. Just do the right thing you ought to do and let the world decide.
Thanks for your time. 
lead image designed by me on canva.com 
shout out to my supportive sponsors!
I appreciate my upvoters, subscribers and commentator for your love and support, I Will always love you to the moon and back to read.cash❤️