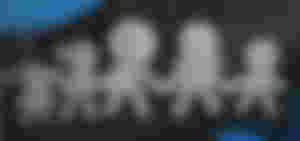 Pandemic.
Yes, the pandemic brought us here.
Pandemic is the main reason why we experience the "new normal" things.
Pandemic also make us realize that we need to change; in behavior, mindset, reasons, goals etc.
Pandemic. The hardest thing I have ever experienced in my life.
Before, it was very easy for me to roam everywhere. But now, it is necessary to restrain oneself because a pandemic is still spreading.
Before, I could easily demonstrate my academic and talent skills in face-to-face activities. But now I may say that I am starting to lose my interest to do the things I used to do before because of what is happening.
If before was difficult to make money. Now is even more difficult because there are very few jobs available and for specific ages and persons only.
Yes, we are having a hard time right now but I believe the pandemic will end soon. Even we are having a hard time right now, we must continue because believe that the pandemic is not forever. Sooner or later, our hard work will produce a sweet fruit that everyone wants to have.
At the present time, education around the world has continued. The pandemic did not hinder our willingness to continue what we start.
Philippines Government is inhibited DepEd to do face-to-face classes because of the fear to have widespread viruses at schools. So DepEd decided to do the 'Distance Learning' or 'New normal education'.
It is a type of learning where students can do schooling even they are at home only.
Acccording to DepEd, the number of students enrolled in the country for the School Year 2020-2021 is over 23.26 million.
So think of it. There are 23.26 million dreamers stuck in a desert without an idea where they can find the water of knowledge. This pandemic really tests our faith in things we have.
The type of learning that I picked is 'Modular Distance Learning' or the learning using teacher-sent modules to students.
The teachers made the modules that they will distribute to the students. After being placed in the respective envelopes of every student, the envelope will be prepared to be taken to barangay centers to be distributed to the parents of the students. The retrieval of the modules is weekly given.
Teachers did research on how we can continue education even there was a barrier that blocked our way. I may say that teachers are heroes in disguise. At first, I do not agree to have classes right now, because of what happens at the present time but I realized that maybe this is just the continuation of my fight, I can still prove to myself that even there are barriers that blocked my way. I can still achieve my dreams by fighting my enemies even they are invulnerable.
The pandemic changes billion lives of living dreamers in our world: breaking the goals of the people who are determined to learn and grow.
I may say that this is a good idea. I can understand the lessons that they are given to us. But what about students with poor comprehension? Students who do not quickly understand just by reading. Students who do not have gadgets to use to search for what they need answers to their questions.
They're pitiful. I am thankful because I was given the privilege of having the gadgets and internet I needed for my studies. I will be forever grateful for that. The only way that I can give to them is to share knowledge of what I have.
I can say that I have the ability to use the internet so that I can find online lessons that are a big help in my studies. I am grateful for this.
The First Quarter has just ended. It took 9 weeks for parents, teachers, students and other people to help make this happen.
My experience this first quarter was not easy. I may not experience being able to discuss in front of the blackboard at school. But that did not stop me from helping my fellow students. We continue to have meetings online through the Zoom app.
At Zoom, we work together when we do not understand other lessons. A student discusses when he/she knows the lesson. This is a great help for us to learn more about what was given to us.
Fortunately and I proudly say that I received the 'with honors' award and I prove to myself that even there are many barriers that blocking my way, I can still continue the battle. I also make my parents proud because of that. I may not show the award to my father personally because he's gone, but I know he's still proud of me and he always does. He said that to me.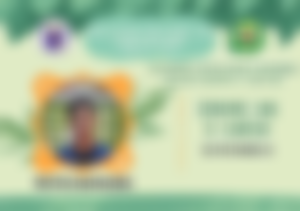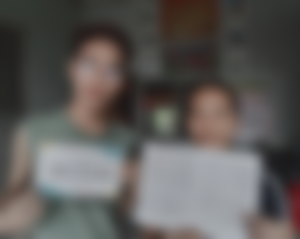 I will continue this because I still want my parents to be proud of me. I do this for my family and my future.
I will continue to pursue my dream of becoming a successful artist and being a successful art teacher someday.
For all those who dream, let us continue to dream for our future. We can also achieve what we aspire to. Maybe, this is not the time, but in the near future, we will achieve it. CLAIM IT!!✨🖤
Thank you for reading my story! 🤗✨
My other Articles to read for:
-Valuable Portrait of Intimacy
-My First Major Competition in 18 years in the Industry of Arts