Rain, More Rain and Nothing But Rain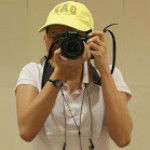 "Rain, rain, go away.

Come again another day…"
Hello guys! Just singing this song for the rain to stop and halt all the worries away about flooding, landslides, traffic and all. We already had so much trouble from two days of persistent and intense rainfall.
The rain started Saturday night and I was so elated to sleep with the cold weather, it really feels like heaven, lol! Then morning came, and I could still see the rain. I would love to stay home and be lazy but I have work, so hustle bustle outdoors despite the rainy weather. Sunday night came and the rain poured so hard, almost zero visibility while driving, the heavy traffic started to escalate due to flooding in most of the streets in the city.
All night, I can hear nothing but rain, the sound of the rain hitting the roof has been like a sound of silence during the night. I was checking Facebook and the local government already issued warnings to residents near rivers and flood-prone areas to evacuate. Rescue units were already at disposal watching for the water level on the bridges within the city. Suddenly, around midnight, I heard a loud sound up in the roof, like something huge hitting the house. In the morning, my brother saw a spare roof on our roof, which must be from a neighbor's house! Oh my! 
An image of the landslide on the main road nearby.
Sunday before sunrise, more rain and even heavier. Surprisingly, traffic started to build up in front of our house, which doesn't happen very often unless something serious like an accident or something like that occurs. I woke up early to check on our dog crying, and on the ealy local news my mom found out that there was a landslide just a kilometer away from ours, blocking the road thus explaining the traffic. Oh my…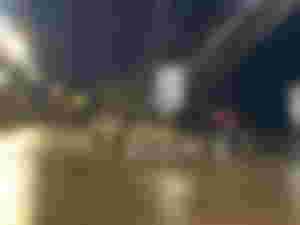 The main bridge in the city swallowed by floodwater, no longer visible actually.
When I checked my Facebook timeline, I was dumbfounded by what I saw. The main bridge was swallowed by floodwater already, and the lane going to the city was closed after a crack was seen on the side rail. This photo below was the bridge, people living beside this area already evacuated for safety.
A steel bridge on the outskirts of the city got destroyed and no longer passable, it seems it got swallowed up as well when the floodwater rose during the night and had almost forcefully plucked the bridge out of the ground. I have memories of passing on this bridge several times before when the pandemic started, and my patient opted to be treated at home for the fear of Covid19. Now, this structure needs rehabilitation as well. On the photo below, you can see those lightweight houses unfortunately on the brink of destruction.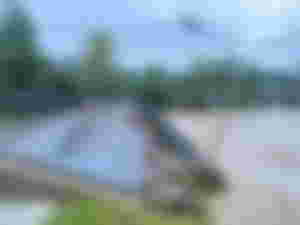 The steel bridge that was destroyed by floodwater.
In normal days, you can't see any water from this perspective, this river is so shallow. I can even see kids swimming and playing during summer. But now, it's filled with water!
On my way to work, I've seen this light post bent on the road. Of course, you can't imagine the traffic, and the threat to commuters while some workers tried to fix and clear everything. But, life goes on, with rain, more rain and nothing but rain there is work, errands and priorities waiting for you, so. Just stay safe, I guess.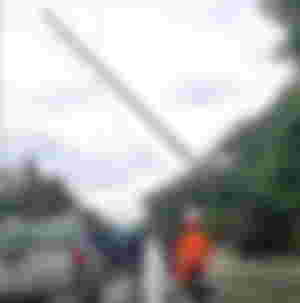 Sigh.
This afternoon, the rain started to pour again, and this patient of mine jokingly sings this song out loud...
"Buhos pa ulan, aking mundo lunurin tuloyan..."
Please check the English translation, my foreign friends from here, hehe! I think that's one of Regine Velasquez's popular songs in the Philippines. I just want to include this part here because in spite of all the trouble this calamity has caused us, we still find some humor to laugh about, brighten our day, make solutions and move on by God's grace.
---
Thank you for reading once again everyone! This would be it. I still have to raid our closet for used clothing to donate to the affected families tomorrow. Ciao! God bless us all and stay safe wherever you are...
---
Lead image and last photo by me
The rest of the photos from Facebook
All Original Content (unless specified otherwise)
03/07/2022
©️ LykeLyca
---
Write articles and join us! Click read.cash
Make some noise by writing short posts. Click noise.cash
Follow me in Twitter and Telegram @LycaLyke
Start mining, trading/ copy trading in Bityard
---