Here Are Some Ways To Communicate With Students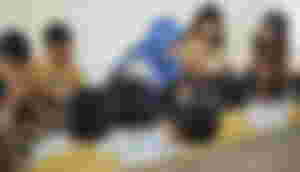 Teachers are the most important part of the education system and how students develop in the future. The existence of teacher skills that are continuously improved is one of the important things that must be done. Communication skills are certainly one of the most important things that every teacher must-have.
Every teacher must learn how to communicate with students properly and correctly so that there are no gaps. The existence of communication that is built properly will make all students more comfortable in learning. That is why learning about it is the most important part that every teacher must have in educating students.
In this discussion, of course, I will give a review of what steps you should learn. So that communication with students can be established by what should be in learning. This will then support student activity in the learning process in the classroom for sure.
Try to show enthusiasm in learning


A teacher will be easier to be close to students if they do not provide distance or barriers in learning. Teachers who seem very enthusiastic about learning will certainly make the learning atmosphere more comfortable. Students can be more interested in learning in class with you as an informant of a lesson. If you show this, then you have succeeded in applying how to communicate with students through a good attitude.


Give an authoritative character while in class


You can show how enthusiastic you are in teaching students. However, do not let the authoritative character you have in providing learning be lost in front of the students. Stay authoritative so students can be more reluctant to do something stupid in your class. This will help establish better communication so students can be more comfortable in learning.


Interactive is a way to communicate with students


You need to know that communicating with students interactively is an important part. Running a communication that is much more interactive will make the learning atmosphere more relaxed. Students will feel more comfortable participating in active learning with a connected question and answer process. So that improving the quality of learning will be much more in line with the expected goals.


Learn to communicate by looking at the student's character


Each student certainly has his character which will affect the quality of the communication carried out. If you communicate rigidly then students will feel uncomfortable later. Of course, this will cause you problems if you don't deal with it right away, so it's important to understand the character of the student. That way then the learning process will be much more fun to do.


Give sincerity in teaching


It is not uncommon to find many teachers who carry out their work wholeheartedly and this is a mandatory example to be imitated. If you are sincere in providing learning then it will affect how you communicate. Sincerity to teach so students can gain better knowledge will encourage you to behave appropriately. In this way, you will get a better opportunity to carry out learning to the fullest.
That's all about some ways to communicate with students that you should apply appropriately, I hope this article is useful. Don't forget to subscribe so you get useful information about psychology and parenting.
The lead image source by Husniati Salma in Unsplash