What we know is A Drop, what we don't know is The Ocean
Date: 18th May, 2022. Wednesday
Hello beautiful people. Welcome to another day with me. I'm your desired Devil, Lucifer. Feeling completely ok and energetic but still I have to abide by the rules of the doctor. Untill they declare me medically fit and cleared to go green, I'm not taking any risks. Rather I would stay on my bed, having my phone in hands, typing this story and share with you people. People who remain in the different parts of this world are connected with this community named read.cash as we all know how important role it plays in our daily life. Thanks to it.
I'm here to discuss about having knowledge. We all know that knowledge is power. It is the knowledge which makes the human beings different from others creation. The Almighty has created many species and alone human being is much talented, skillful and wise. Comparing with other creations, we are ahead of them in knowledge. We start learning from the very beginning of our life which ends when we breathe last. But my question is how much do we know? Is it enough for us?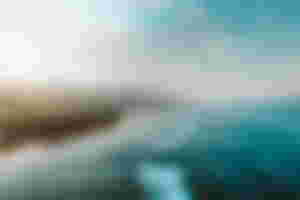 Once I heard somewhere about an interview about one of great scientist named Isaac Newton. When he was questioned about his knowledge and wisdom, he mentioned that he felt like a mere boy who plays here and there, near a seashore while collecting shinny, smooth pebbles while the entire sea is still there undiscovered by him. Can you just simply understand the depth of his example? A great scientist like him judging his own knowledge that he hadn't known much and still quenched for more. What about us? We on the other hand feel that we have enough knowledge to spread, enough wisdom to choose right or wrong, enough learnings to refuse to learn more. Just look around yourself and you will find too many people who feel that they are wise enough, learned man enough to ignore everyone else and proclaim them as a old legend.
For me, I am really sick of these guys. Their arrogance, their non wise behaviours are hard to adjust. I just can't. We know nothing much. All we know around us is the inventions of others. What you or me have new to teach? Do we have anything new? No, I don't think so. We are learning from the internet, teaching that to the new generations and that's it. We prefer remaining idle.
We know only a drop of knowledge and the rest are there like ocean. We feel it that way and that should be the greatest way to remove arrogance as well as the ignorance from our souls. We need to learn more. Let us research more to know more. Just for example, a few days ago when the Cryptoverse collapsed, we started shouting that the market is down. But how many of us actually understood the reason of it? For us, going red is scary and going green is beneficial. That's how our knowledge. No offense to anyone dear. But what I'm trying to say that we still have lacking in our knowledge. We need to understand that and we highly need to cope up with the problems. The world is changing and the reasons are people around the world are adopting new knowledge.
We should not be arrogant with our tiny knowledge. Always remember that little knowledge is way of harming people. Because having little knowledge may help you in simple problems but in a long run it will not only affect you but also the others related to the situation. You may have theoretical knowledge of driving a car but if you don't have practical knowledge then it would be a clear problem, right dear?
So, I suggest you to learn more. There is no harm, no shyness in it. The more you learn, the more you will become an asset. The world is too big for you and you have limited your knowledge in books and copies. Get up, go outside. Find what you want to know. The world is waiting with it's resources to share. Go on, my friend.
All the pictures including the lead one are used from unsplash.com