Is this real? It's already 9 (4) days before Christmas? Oh well, yes this is real. Time is flying so fast so the dates are. I've been thinking about what I'm gonna share with you about Christmas. I already submitted my entry to the challenge prepared by gertu about Christmas and also the challenge initiated by Coquicoin.
Writing about Christmas be it your wish, your memories or gifts that you want during Christmas is fun. It gives us joy and excitement.
---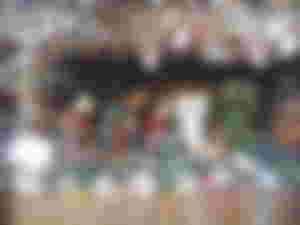 When Christmas is near, people prepare Christmas decorations in their houses, in their community and their offices. Government officials put a design on the highways such as lights and lanterns to make the road colourful then malls have their Christmas decorations too which people are amazed when they saw it. Big Santa Claus, Christmas tree, Christmas lights, etc. which gives the place a Christmas vibe.
When I was in high school, our teacher asked us to bring Christmas decorations such as lanterns (patrol) and of course the flower poinsettia (i don't know if I spell it correctly, too lazy to search on it hehe, sorry) so that we have decorations in our room. And sometimes they let us do a lantern ourselves and I enjoyed it.
I am excited to help in putting decorations because in our house we don't have any. We didn't design our house, unlike others. Maybe the reason of my mother is that our house is not big and we don't know where to put those decorations. I envy other houses in my neighborhood that has a Christmas light, Christmas trees and other Christmas decors inside and outside of their house.
Before when I was a kid, the thing that I want when Christmas comes is the Christmas tree. I really want a Christmas tree in our house but we didn't buy one. My mom said it will be stock and ruined when Christmas ends so we didn't try to put a Christmas tree in our house. Our house during Christmas is like a usual house. You can't see any design. But one Christmas when I and my mother went to church, we saw there a vendor who sells Christmas lights with the shape of the star so I asked her if we can buy them and put them in our house. I'm glad she said yes and buy one. We decorate it inside our window but we barely light it up since it needs to plug into the outlet and we need to be thrift in electricity.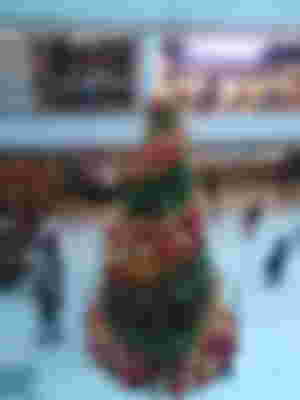 I am amazed and my eyes are widened when I've got to see a Christmas tree in the malls, city hall, or beside the highways especially if the Christmas tree is huge and the design is beautiful but all Christmas trees are beautiful and amazing. When artists and bloggers are sharing their Christmas tree decorations, I am happy while watching them because of the design of their Christmas tree, they have different themes and designs. There are white, blue and green Christmas trees. This Christmas tree above is located in our city hall.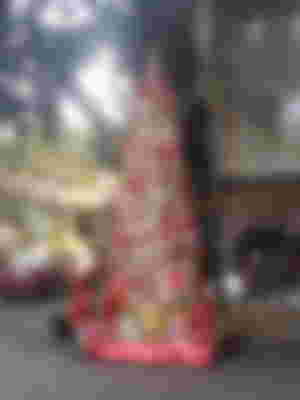 This is the Christmas tree that I saw beside our highway near the church. When night comes, this Christmas tree will light up. unfortunately, I wasn't able to witness that scene since it happened at night.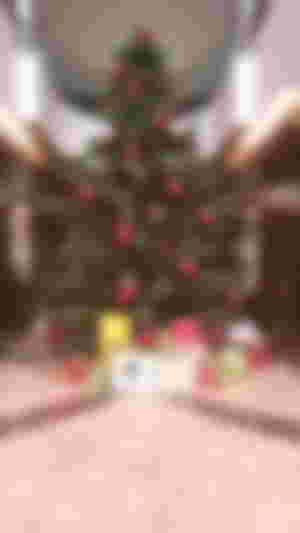 This one looks simple yet still beautiful. This is the Christmas tree decoration in one of the malls here. My partner sent this to me since his work is near there.
My sisters and niece are in the mall. They went there and saw this Christmas tree. This one is the Christmas tree in Megamall. I would love to take a picture with it but I can't go to the mall.
In our province, my relatives have decorations in their houses since their houses are big and wide. When we spent our Christmas in the province, I enjoyed it there, all houses have their Christmas decorations. You can feel that Christmas is coming.
Christmas decorations such as the Christmas tree gives us the feeling of joy and excitement when we see this display it means that Christmas is near. Although we don't have any Christmas decorations in our house here, still our family is happy during Christmas. The love we have and we give to each other is priceless. Even though our house doesn't have Christmas decors, it fills with so much love and contentment and I want to say thank you to our Lord because He gave me my family. I'm contented with what we have now with or without a Christmas tree. But maybe next Christmas our house will have a Christmas tree, a giant one. Hehe who knows, I will work on it.
---

I made this out of my baby's diaper hehe. I can't go out so this is what I think that I can form a word of READ.
I also created a word CASH hehe.
This is my entry to the #ChristmasChallenge2021 that was initiated by Kuya ed @TengoLoTodo
It's still December 21st so I guess I'm still in hehe. Quite late tho, I've been busy these few weeks.
ADVANCE MERRY CHRISTMAS EVERYONE!
-Loveleng18