Readcashers Series with Carisdaneym
I believe this Resdcashers' interview series a wonderful idea to connect with other readcashers, talk about their skills, experiences and how they are making blogging on read.cash work for them. They will be sharing practical advice, lessons and experiments they have made in achieving their goals on read.cash, the Bitcoin cash ecosystem and beyond.
If nothing else, I've introduced this interview series to inspire and motivate new users. The interview questions are formed to give you an overview of how the read.cash got started, what challenges they faced, their daily routines, what inspires them and their other interests.
My personal advice is to read this interview until the end. Too often, we find everything on the internet but not those, experiences and challenges that others go through in daily life.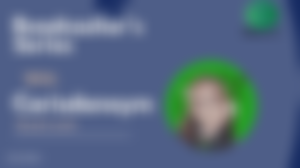 Today, the spotlight is on;
Before I start answering the questions, let me take this given opportunity to thank @Lixten for this interview. It is my very first time that someone messaged me on telegram for an interview though I know, I am not good at writing and I still have a long way to go become one. I hope that I can answer all the questions properly.
 I started my journey  a year ago and  I cannot belive on my achivements here like I started writing on read.cash becase I saw my sister doing it and I got curios so I tried since I really want to write. At first, my intention was to accumulate BCH only and I did not expect that I will enjoy interacting and learning more about cryptocurrency. It was just amazing how I manage to stay here until now and it is because of my readers and sponsors, without them I am nothing.
Maybe my biggest challenge in here is when I started writing an article on my first month like it was hard to be noticed when your topic is not good and I am not good at interacting as well. To overcome it, I started reading articles that I find interesting and always leave a meaningful comment until I realized that they also start reading my articles to return the favor and I was so happy about it.
 My inspiration would be my dreams in life or the things that I wanted to do in the future. It inspires me to do my best and exert my full effort. My readers motivate me to continue on publishing, their compliments and even their criticism motivates me.
What did I do to reach my goals? I just continue what I'm doing. I fail but I also try and try again to succeed and maybe that is the reason why I was able to achieve my goals.
 I highly recommend to have more interaction with your co-writers in here. Read and read to learn more so you can apply it next time. It doesn't matter if you are just starting or what, just write what you want to write, express your thoughts through words and accept criticism to grow. In that way, I assure you that you will learn.
Aside from noise.cash and read.cash, I also try publishing articles on Publish0x, posting on Torum and etc. I also do trading both on centralized and decentralized exchanges, farming and staking tokens for passive income.
 My typical day would be like staying at home, reading books, watching anime or korean dramas or just scrolling on my social media accounts after house chores. Before I am spending a lot of time on read.cash but now, I had to focus on my studies and prepare for my future so I rarely visit my account here nowadays.
To be updated, I just keep on reading.
 Many times. I always think of giving up on blogging but what makes me stay is because I still have goals to accomplish so I gotta survive and live my life to the fullest.
I just read and interact, I don't have specific strategy but I think interaction has a big impact and also writing a good topic that your audience can relate with.
If you feel like giving up, please don't. You can take some time and take a break but never quit. It may be hard but do not forget that it will help you to learn and grow.
You can always visit my account on noise.cash, telegram and twitter. Carisdaneym is my username.
I hope you enjoyed this interview with Carisdaneym, make sure you subscribe to her.