I was watching videos on Tiktok until I came up with a video of a cute little girl who was so angry to her mother. She talked like an old woman, who have an explanation about everything. Then where I remember my cousin.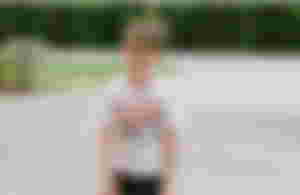 I have this cousin who is naughty, from the moment he was just a toddler, until now that he is already nine years old. Let's just call him Dem.
But first let me Flex to you my sponsors, one of those persons who guide and support me throughout my journey here. You guys can check them too:)
________________________
It started when he was only two years old. He became their neighbors' alarm clock, not because of his cry, but because of the bad words he uttered when he awoke. They live in a neighborhood where every house is right next to the next. Children are excellent imitators, and he copied it from their neighbors. Unfortunately, his parents tolerate it; sometimes they will simply say, "no baby, that's bad," and then nothing else.
Years had passed and it become worst. Although we are far from their house but the news about him always reach in our family.
Most of the time, he punches their neighbors who are the same age as him, and he has become a bully to the point where even his parents are afraid of him. He is too young, but he has control over his parents.
I once encountered how spoiled he is when I visited them. Her sister enjoys doing make-up, so my cousin and I are the models that time. Everything is fine until Dem stands above the table, faces us, and pees.
Kelly(not her real name), who is only three years older than him, has a cat that she has always cared for, until it was lost one day. They were all worried about where the cat was. The next day, when my grandmother went to get some clothes from their cabinet she saw the cat inside; so weak and was rushing it's breath. They already have a gut feeling that Dem is the cause, so they ask him, and he says "yes."
The following month was the worst, because he found the cat again and brought it to their house. When his parents returned home, they discovered that there was a lot of blood inside. Dem was asked what happened, but he remained silent. Until Kelly told them that her cat had a lot of wounds and that there's big possibility that it was my spoiled cousin who did it. They asked him again the other day, and he said "yes."
That's the only good thing about him, he is honest that he do all those bad things.
Last year, when he went to my grandma's house; they are just neighbors. My grandmother has just finished washing the blanket and does not want Dem to step into it because his feet are filthy from playing. Instead of listening, he stepped into the blanket and continued to jump. My grandmother became angry and grabbed a softbroom to spank him, but he shielded himself with the thick blanket. My grandma still spank him, but we are sure what she did is not painful, as my grandma didn't use to do it. But Dem stand up and run. From that day, he never talk to my grandma, until the Christmas day celebration. Since Christmas is all about love, we told him to say sorry to grandma but he only said "no!".
My grandma loves plant, but when she's not around Dem always cut the leaves of the flower. When he was caught, he will just run so quick that my grandma can't reach him.
I already told my parents, that it is not all about being spoiled, but it's already a disorder. Everytime he made a mistake, his parents will only say "No Dem, that's bad", but when they are in a bad mood, they will hit Dem too much, thinking about the mistakes he did weeks ago.
We cannot scold Dem because his parents will defend him. One thing for sure that their life will become worst if Dem will not change.
Dem didn't do anything bad in me, except for that one time when he peed in front of us when we were younger. There are times when they come to our house and he is perfectly behaved, which leads me to believe that the problem is with his parents and surroundings.
________________________
Lead image was edited using PicsArt
****
Hello lovely readers!
How was your day?
Let us pray for all people around the world, as well as for our Filipino netizens who have been severely affected by the typhoon. Keep your head up and believe that everything will be fine.
GODBless!
Sending hugs.
-Ling