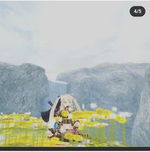 Philippines also known the "Pearl of the orient seas"
1.Where people living in here are resilience and can find the happiness even if they're in the worst situation. Philippines is prone to natural disasters such as storm and flood almost every year 20+ typhoon entering the Philippines. Despite that reason, Filipino can exude positivity. They're so optimistic that you can still saw people laughing under the rain rather than being under despite on what happen.
2.Where people who lives here are so hospitable that will only gonna use those display plate and cups if there's a visitor who entered their houses. Filipino are warmly accepting to their guest and will welcome you with an open arm it is almost seems hardwired into their systems. Because as much as Filipinos love their culture and country, they will gladly share it with any visitor who extends that same love.
3 Filipinos are so emphatic and Helpful. Have you ever heard the word "bayanihan"?. Bayanihan is a very important concept that Filipino have. They will gonna help you without asking a question. Some example of Bayanihan is that a whole community will gonna be one together just to help you like carrying your whole house nipa hut from one location to another. Also this Filipinos can sense if you have problem and when they sense that they will gonna ask you if something was wrong just to know that you are not alone. If you didn't answer they will just gonna accompany you until then.
If we're going to talk about the whole history of the Philippines we need a whole day discussing just a half of its history or maybe a quarter of it only. Because Philippines has a number of significant event that can't be just ignore. So yeah let's summarize it or just talk about some of it.
1 On march 1521 Philippines was Discovered by the Portuguese explorer Ferdinand Magellan and named the country after King Philip ll the country was known as las Felipinas. By the 1830's Spanish culture and thought had penetrated into Filipino culture to the extent that the Filipino people began thinking about liberation from Spain. The government of Spain developed Filipino agriculture to the point that it was self-sufficient.
2 Before the Spaniards discovered and colonized the Philippines. Around 30000 years from now, there are Asian mainland who traveled to Philippines during the ice age. And then after that, some people like mongolians and from mainland China travel to Philippines to trade and live in here. Our first religion is Muslim.
3 Going back, the Western Country, the United States of America, on 1898 the Americans engaged a War with the spain. The battle last for almost a year until they have a treaty of Paris. The Philippines become free from Spain. But the government become under the country of United States of America. The Filipinos think history repeats itself and so they fight for their freedoms.
4 on 1935 the Philippines obtain it's independence day and build the commonwealth of the Philippines, however, just 6 year later. On 1941 the Japanese soldier invaded the Philippines. This world war 2 lasted for 4 years until the Philippines regain once again it's freedom from the hand of the other countries.
1The Philippines is made up of 7,641 islands, making it one of the largest archipelagos in the world. But more than 5,000 of the islands remain unnamed on most international maps
2 the Philippines has earned its nickname as the "text capital of the world." Because of a large number of text messages sent throughout the country
3The Philippines is the only Asian nation that is predominantly Christian. While many of its Southeast Asian neighbors practice Buddhism, 86 percent of the Filipino population is Roman Catholic.
4 Philippines has the 3 of the top 10 world largest mall. This are: SM City North Edsa, SM Mega Mall, and SM Sea Side Cebu city.
5 Jollibee the Mc Donald of Philippines. Jollibee stand it's place for not letting the Mc Donald rule over the world. It is now popular not only in asia but also in some country around the world
6Jeepneys are the most popular way of getting around in the Philippines. You can't miss them – they are super colorful and kitsch! They're also super crowded, which is how they got their name – one of the apparent origins of the word jeepney is from the words jeep and knee because passengers sit so closely together
7the Philippines gave us the first LGBTQ political party in the world! Back in 2003, the Ang Ladlad (meaning "out of the closet" in Filipino) was created by writer, Danton Remoto. In doing so, Danton created the only LGBTQ political party that we know of in the world
8The Filipino flag is the only one in the world, which can determine whether the country is at peace or at war, depending on how it is flown. When the country is at peace the flag flown with the blue color on top and red means we are at war.
9 Philippines has 175 different spoken dialect. And in that 175 dialect 171 of them is still alive and used.
10Philippine is indeed a country close to paradise. A place blessed with natural wonders, diverse cultures, traditions and historical treasures. This place is a haven not only for locals but for foreigners who loved the different rhythm of travel activities from extreme adventure to tranquil yet sophisticated and relaxing environment and surroundings.
For all my readers, I'm so sorry I'm not feeling well right now but my goal is one article per day on this whole month so I tried to made an easy topic. And yes Im trying t change my writing style from narrative to descriptive writing because why not, right? I wanna explore this field too and become better on it. Some of the article above are my from my thoughts understanding and stock knowledge and some are from the site I have read and use as basis. Because I need to, were talking about facts and to have a reference is a must.
I also get this content from someone in here and think of giving it a try because it's a celebration for buwan ng wika
Sources
https://nomadicboys.com/interesting-facts-about-the-philippines/
https://www.csub.edu/pacificrim/countryprospectus/history.htm