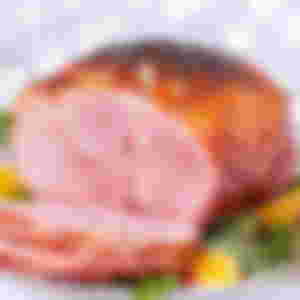 With more and more new hams flooding the market, it's harder for the simple housewife like me to pick the right ham for the family. Here's a reliable guide to find, buy , store and cook the best ham for the traditional Filipino's noche buena.
"Perfect" is never natural. A so called "perfectly" shaped ham isn't really an all natural ham made of 100 percent ham meat. Look for irregular shapes (rather than a "fake" smooth shape), since these show the natural curves of a ham cut.
Ditto for perfect glazing. Natural ham meat usually tastes better with an old fashioned jelly like glaze. Don't be fooled by a golden brown, even sugar glaze since these may contain chemicals to achieve the even color.
If in doubt ask for a slice test. 100 percent ham meat will have a succulent texture, think of prime roast beef,with visible threads that define the meat like texture. Some new hams are rounded out with fillers, that will look like globs of white fat. Too smooth slices, similar to cold cuts, are also another give away that the ham is not 100 percent ham meat.
Natural 100 percent ham will also have a delicate flavor and should not have a heavy barbecue sauce taste. Be wary of strong flavored hams since these mask the flavor of less than hundred percent natural ham, it should also be juicy and not crumbly.
The ultimate test is the "freezer test". But by this time, it may be too late. Less than 100 percent natural ham keeps up to one week in the freezer, while 100 percent natural ham can keep up to three or four weeks, without loss of freshness, in our freezer.
Plan the ham glaze according to the theme of your Christmas noche buena.
Make up your mind to bake your Christmas ham at home, where you know the conditions are controlled. Despite the temptation to have your grocery or deli do the job for you, you will have no control over the freshness of your ham.
Thaw the ham by transferring it from the freezer to the refrigerator overnight. Don't try to short cut the process by running the ham under a tap, since this will leech out of Ham's flavor.
On the day of the party, score the thawed ham lightly, about one half deep, with a sharp kitchen knife along the fatty side. This will allow the sauce to soak in evenly, while adding decorative interest.
Place the ham in a deep baking tray and baste with the sauce.
Preheat the oven at 375 degrees Fahrenheit for ten minutes. Pre heating makes sure that the oven is evenly hot and makes for equally even and quick cooking and glazing.
Baste the ham at least 3 to 4 times during the cooking period to keep it juicy. Make sure to prepare oven proof mittens to handle the marinade spoon and ham tray.
The ham should also be baked at 375 degrees Fahrenheit for 15 to 20 minutes for fully thawed hams.
When the glaze or sauce turns golden brown, the ham is ready for serving and enjoying.
You can keep a properly baked ham on the buffet table without refrigeration for up to 6 to 8 hours.
Hope you all like it.
Shop wisely everyone...
Advance Merry Christmas to All..
Love lots ❤️😘