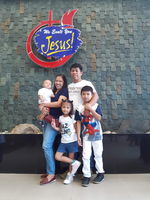 Date: November 17, 2021
Yesterday, I have published about our quick unplanned get-away. This will be the second and last part of it.
As I've shared in my aforementioned article that we spend our night at the resort. I actually started to write that article at around 11PM yesterday and was able to publish it an hour later. I slept at around 8PM and accidentally woke-up at 11PM. But then, I struggled going back to sleep.
At around 2AM, my husband woke up. He heated some water and ask me to have a coffee. Since we are not able to bring some mugs (intentional), we just used the cup noodles' cup.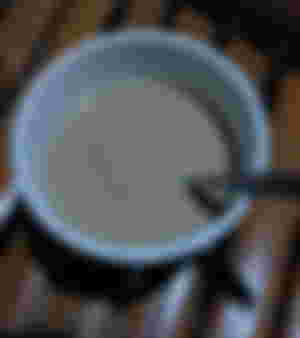 We're not a fan of 3 in 1 coffee mix hence I brought pure coffee powder, sugar, and powdered milk as our creamer. I prepared two cups, one for me and one for my husband.
We're both enjoying our coffee while having some talks about our experience because it is our first time to spend night in a resort with our kids, my youngest son woke up. Since I'm just half-way done with my coffee, I took him out of the bed and carry him, allowing him to latch, hoping he will fall asleep again. He get-up and started playing already.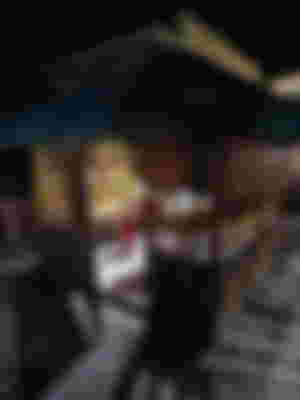 My husband went back to bed after finishing his coffee. I felt sleepy a bit at that time, however, my youngest son don't want to go back to bed yet.
While my son is busy playing, I went out of our KUBO, and started to take some clicks. I faced the sea and noticed the moon light reflecting beautifully in the sea water. Just the same with the paintings I usually see anywhere!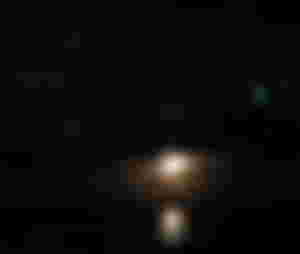 I am so happy that I am able to capture the moon set.
I am suppose to wqtch the sunset and wanted to capture some image of it however, I forgotten that Nasugbu Batangas is located at the WEST which means, I will never see the beautiful sunrise from there. So while staring at the sky, I just find this coconut tree giving a good view in my bare eyes.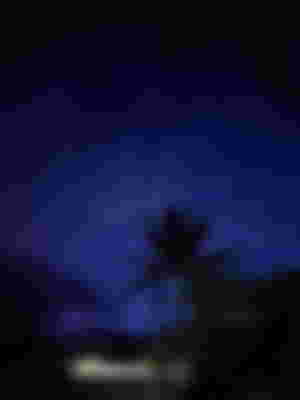 It is around 5 in the morning already when I took that shot. I've noticed that the sun is nearly up hence I asked my youngest son to go back to bed. And luckily, he's in with my invitation this time.
I've set my alarm at 7:00AM to let the kids run around the sand as early as possible.
Our check-out is at 12 noon, so the plan is we will take lunch by 11:00AM so that we're all full while on our way home.
Here is what the sea looks like in the daylight.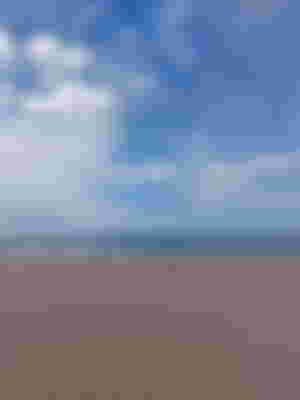 The kids had fun scooping sands and throw it anywhere.
At around 9:00AM, since it's too hot already in the sea and the waves are also getting bigger, we decided to go back to the resort and just trabsfer to the pool.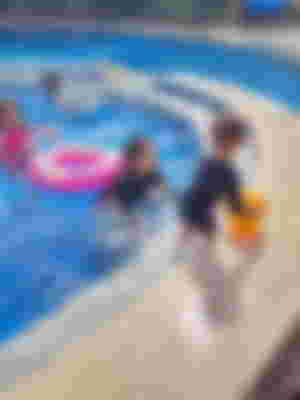 My husband and I realized that it is more ideal to go into an outing like this on weekdays to avoid the crowd.
And as you can clearly see from the above picture, we are the only ones using the pool at that time till we left.
I even teased my husband:
While the kids and I are busy swimming, my husband is busy preparing our lunch already. He just grilled some marinated chicken and pork belly as our viand. And then grilled some ripe bananas so that we have something to eat while we are on our way later on.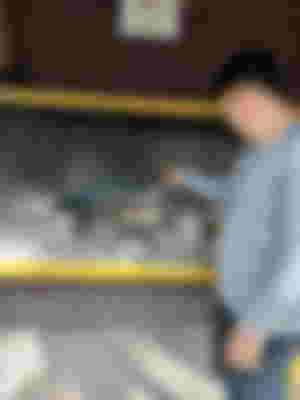 We left the resort 10 minutes before our check out time. We ensured not to exceed with our time because their extension price is a bit pricey. We need to pay 200 pesos per hour for the KUBO and pay the 150 entrance fee again per head. So to avoid on those hustle, at around 10:30AM, I decided to take a bath and fix myself already. And then while I am packing all our clothes and belongings, my husband managed to fix our kids. After fixing majority of our things, we decided to eat our lunch.
Before the resort allow us to leave, they did a quick inspection to our rented KUBO first.
Our travel time is not that long actually. It just took 30 minutes drive from Nasugbu to Tagaytay.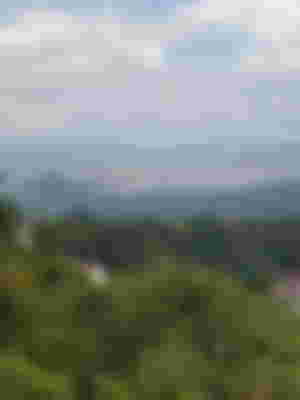 I was saddend when I saw how taal volcano looks like. Most of it are still covered with ashes. You can not see any green area from my spot.
And that concludes our unplanned get-away.
For those who are interested with the resort's name, it's called as BERNABEACH RESORT, located at Nasugbu, Batangas. It's kubo rate is 2000 overnight (our check-in time is 2PM and check-out time is 12noon).
Here is how it looks like: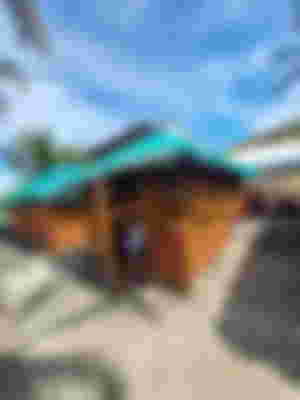 It has one room which can accomodate for 4 to 6 pax.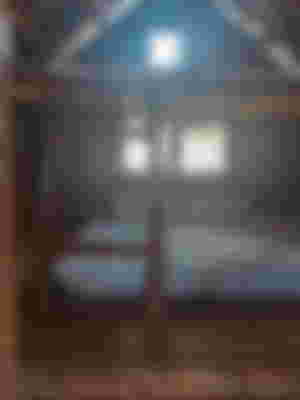 There are 2 beds, 4 pillows and 3 blankets provided as well.
It has only one socket is available inside so good thing we brought extension wires.
You will be charged 200 for each electric appliances that you wanted to bring inside the kubo like rice cooker, fan, etc.
Oh! And by the way, speaking of fan, there is one available stand fan inside the kubo. So if in case you are nkt able to bring yours, there's nothing to worry about!
---
Thank you so much for your non-ending support guys! I really appreciate it!