Lina: A child beggar who has a simple wish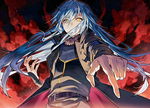 It was 5 pm, I was on my way home when I suddenly met this poor girl. The child wears innocent eyes as if she doesn't know anything about this world. I couldn't even consider her clothing as a feather duster. I felt so pity when I look at her but what broke my heart is the fact that she still wear a beautiful smile on her face, probably wanting to conceal her struggles that day.
A few seconds later, she asked me if I am willing to buy Sampaguita's- flowers formed as a necklace to put on the altar. "I haven't yet sold at least one so, could you please buy one sir?" she uttered. I smiled back and bought everything she sells. Her smile was enough for me as compensation tho. Then, as she wears her smile, she runs at full speed toward the nearby canteen and bought something. At first, I was thinking about, maybe it was for her family and I'm happy that I was able to help her that way.
The next day, I saw her again but she was not selling anything. She's pushing a wooden cart full of Manila paper on it. The materials contain words, phrases, and sentences intended for teaching kids like her. I thought she was only helping some volunteers but to my surprise, she owns the cart and she uses the money I gave her to buy Manila paper and marker and write down all the words and phrases she knows to teach her friends how to read and write. I helped her and invited all the kids for a meal after their tutorial sessions. The kids gracefully accept my offer and enjoyed the food.
After the meal, I asked her for a moment and humbly asked why she so eagerly wanted to teach those children? I know it was a foolish question for someone who doesn't know the feeling of a beggar. So, I was hoping for a childish answer because I hope it wasn't too late to help someone with a brighter future. "My mom died when I was 3 years old, father tried his best to raise me and provide everything I need but then when I was 10 he passed away. I don't have any choice but to live on my own." My heart was crumbled into pieces hearing how horrible her situation was, then I requested to continue her story if it was okay with her.
One moment after, while she was barely grasping her breath trying to hold her cry, she nodded and said okay. I told her to let her tears flow because there's nothing to be ashamed of. Just because you cry doesn't necessarily mean you're weak rather it was a sign that you're strong, strong enough to let go of your sadness, and brave enough to face the reality. It may be true that I don't know the feeling of being you but deep inside my heart, I know that I have found one of my purpose in life, and that is to help and guide you.
Lina told me and said, "When my father died, my relatives tried to adopt me, at first they were as good as angels but a few months after, they started to show their true colors, that's why I left and decided to be here. Here, I have friends and we share a bond that only we can understand, I have found my true family here though not truly related by blood, we still are family.
During my entire stay here, I realized that despite our status, I'm still lucky to attend school for a while and learn how to read and write, upon realizing that, it was already my only dream, I want them to learn how to write and how to read. I want to see them writing their names and their stories. I love to hear their poems and I love to witness their smile because of the simple achievements they accomplished. I want to learn even more so that I can continue teaching them and I hope all of us get out from the claws of poverty." I ended up crying because of what she said, a 12-year-old girl with a dream of getting them all out of poverty using the knowledge that she wants to share with her colleagues. Lina's dream is for her family though not related by blood but connected by faith.