Just Random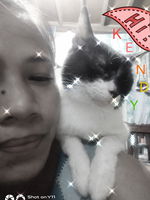 August 23-7
It was all wet because of the typhoon. Since yesterday the rain started to pour already.
Last night I'm afraid to get wet while on my way to my partner's meeting point. So I earnestly wish that the rain would stop and it did but the case is I missed my drop point and ended a few kilometers away from it lol.
I tried to wait for another ride back to it but it take so long for me to stand along the highway so I decided to just walk my way.
Luckily, as I have said, the rain stop already, and only the wet pavement was left with rainwater.
After 10 to 12 minutes of a not-so-fast walk, I finally reach my destination.
I should have not gone back there anymore for I can message my partner to just pick me up to where I dropped off but what motivate me to go back was the cat that I was feeding every time I stand by there in the area.
I just could not ignore her waiting for me without checking the feline and giving her some food. I was there already and a walk back would be worth it after a tummy will fill even just for the night.
And as I was approaching the area catching my breath the cat was silently sitting on the stair where I usually sit and feed her.
She was so happy seeing me and began to snug and ask for food as I walk towards her.
Maybe you are wondering why I could not take her home. I have a lot on my plate already, they are 12 and counting, and I can't for more. If I only had the means to support and adopt every astray why not right? Hope you understand my part.
---
It's about cats again. The other day I let my two cutie pies be adopted by my workmate.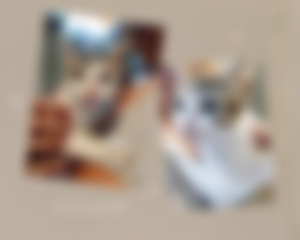 She asks for 1 kitten only but I told her that she could get a pair so that the other may not get bored and lonely and she agreed.
So, last Sunday I brought the two kitties and she took them home. She updated me that the two were doing well.
---
TODAY'S UPDATE
I was not able to go to work today due to the bad weather brought by the typhoon.
I have tried to get ready late in the morning when I wake up but as the rain pours unceasingly I decided not to.
It's no use for I know the area that we are going to pass will not passable for that situation. Marikina is a flooded area so I better told my partner not to go.
The result is, that I ended up curling with my pillow and blanket for the weather made me lazy to do things lol.
But tonight I'm doing the laundry while writing this. I feel energized already after a couple of hours of dozing in the afternoon.
---
Hey, how are you, awesome folks? It's just me checking in here. I'm sorry for the kind of write's up that I shared today, just random because I don't have a specific topic to tackle now.
Thank you for your precious time reading my work. Until next time again.
All photos are edited tru the Canva app.
Article #150
Published: August 23, 2022
Time: 10:56 PST
All images are used and owned by me 
     unless otherwise stated. 
L🧡ve,
Kendy42