Update: Mama's Medication Operation
Date: February 2, 2022
Last January 28, 2022 I published the article "Mama's Medication Operation" where I stated that Mama needs to go to the hospital and see some specialist due to her lumps in the neck that bother us so much. I made some delay in converting my BCH earnings within a month due to busyness at school. Today, I did what I must have done days ago. I sent my hundred bucks in coins.ph that is equivalent to 5000 pesos from my own earnings ($86) and $14 from the tip I received with the article and someone sent her help to the wallet address I provided which I didn't expect to receive at all.
With that amount, $70 will be exclusive in Mama's check and laboratories because my sister plans that we will undergo Mama in overall laboratories to examine and secure and to know other areas of her body. Mama felt so much pain after she got her allergy triggered and we cannot let her take any medicine because it might be triggered again. With her situation, I always make sure if I go out or go somewhere before getting I always take a bath and wear a face mask around the house. One thing, I really thought I am covid positive because within that day I was in the city, meeting people and interacting. Prior to that day, I got my fever and I could feel some signs of Covid19 virus. To ensure Mama's health I isolate myself in the room while wearing a face mask. The worst meal I got was eating alone while my family was eating in my Ate's house. Loneliness will kill me, not the virus. Thank God it didn't last too long. Right now, I become more careful and as much as possible I avoid unnecessary gatherings.
By tomorrow around 10 am I will be able to cash out the money in Palawan where I usually cash out. By the way, my sister will be the one who will assist Mama because of the hospital regulations of one person allowed.
The $30 will be allocated at our one month rice budget. $20 is equivalent to 1000 pesos and the 25 kilo or half sack of rice is just 960 pesos. The rest $10 or 500 pesos I'll be using into some essential groceries especially Mama's milk. Hopefully, I could add more.
Honestly, I really wanted to hold my earnings and use it to trade to earn more and to achieve my desired 1BCH goal like other users here dream. No matter how long or far it takes I always set a goal of 1BCH but maybe for now it will be delayed again. Achieving it will be useless if I starve my family and let Mama endure more even if I can do something. So, I will never regret it as long as I can meet my family's needs. 1BCH wait for me hahaha.
---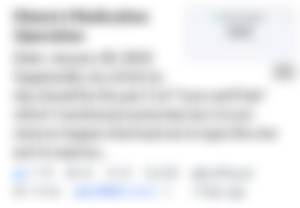 Sis @Mayiee and Mare @Ruffa thank you so much for extending your generosity and giving heart in Mama's Medication. I owe you so much because you never hesitated to give when the market is still red. God will return it into a thousand folds. To those who extend their prayers (many to mention) thank you also for praying for Mama's fast healing. To Rusty, I wanna say thank you for your generosity since my first day here at read.cash. You never leave by my side. I can help and provide because of you. Lastly, read.cash thank you from the bottom of my heart because again and again you save me from drowning.
This virtual community and family, I am forever grateful that once in my life our path crossed that slowly changed my life.
Thanks my dearest Sponsors❣️