Select a Jar: I have five
I believe everyone is unique in our own way. Our parents have been the one first to appreciate our beauty since we were a kid. Time goes by, the more we know about society it also weakens some insecurities of body features as it has a standard of beauty. There is nothing wrong in appreciating but what's wrong is when we look down on ourselves just because some look better than us or more prettier than us but honestly we are all beautiful no matter what skin color and body sizes. 
Personally, I was swollen with insecurities years ago desperately pushing myself to the limit just to fit in but later on I realize I forget who I am because of aiming for something that I will not be. Self destruction is what I get. Until today I still have insecurities but as much as possible I embrace myself more and ready myself of any kind of discrimination might be. These are the jar of insecurities I am dealing with because of society's beauty standards.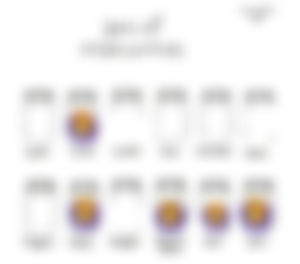 My nose is not pointed, rather it is laying down the road, lol. In Bisaya we have this made up story " during pregnancy my mother craves coconut and my father gets coconut and accidentally gets the branches which make my nose like this" but it is not true of course. I'm really insecure with my nose because if I wear shades it will just slide down hahaha but now I love my nose very much co'z I find it cute.
Since the pandemic outbreak, I have really gained more weight because most of my shirts, pants and shorts cannot fit anymore and even my all dress. My face becomes round together with my belly. Bilbil is real na talaga especially when I sleep side view it really touches my bed. My thighs got bigger than before, which I really wanted to lose. In spite of my chubbiness and insecurities every time I see someone with a petite figure there is someone who is there to remind me that I don't compare myself as he loves my fats above all, lol.
Inside view. It is totally plain, as you cannot see a pointed nose like others, which I hate taking pictures of. If I do, I really try to find an angle where I look beautiful.
Before my hair was straight, I did have curly hair but frizzy, dry and dead hair that I hide it everyday in hair style co'z I push myself to learn styling to make it beautiful and presentable as I always do the braid in all kinds. If I ignore it, talagang lilipad ako sa sobrang buhaghag and the strands of my hair become thicker and more dry. It was a graduation gift from Mama during senior high school to straighten my hair as I really wanted it.
I'm a morena but society wants the white skin color which a lot of people use in different ways just to achieve the white color. I wanted to be white co'z my perspective being white can wear any type of clothes are all suitable but I changed my mind and wanted to stay to be morena.
Thanks a lot❤
Lead image edited by me.